This post originally appeared on the JadoPado Blog and has been re-produced here to preserve the JadoPado historical record.
Since initially conceiving JadoPado back in September 2010, we've been incubated within our parent firm's office space at Emaar Square in the Downtown Dubai area. It's a really nice space, but we're getting to the point where we need our own space to accommodate a larger team and to really let ourselves flourish!
We've been really lucky to be able to lease out some space inside Tower 1, Boulevard Plaza in the Downtown Dubai area. I first fell in the love with the building when I saw an architectural model a few years ago at one of Emaar Properties' Sales Centres. It's a gorgeous 35 floor, 18 lift, daring commercial development located right opposite the Fashion Avenue entrance to Dubai Mall and is a real highlight of the Downtown Dubai area. We managed to grab a sub 3000 sq ft unit on the 34th floor.
Creating office space that is functional and fun is challenging but can be rewarding for your business and everyone that works within it, especially if you can get it right! Some of the things we spent time thinking about were:
Do we want to go open plan, closed private offices or a mixture of the two?
How much storage space do we need? It's always good to be practical!
Do we really need a conference room? Or can we use the space better?
What sort of technology will go into the space? Screens, cabling and so on.
Does the space and it's layout fit our culture? Does it really meet our needs?
Will everyone be comfortable working in the space?
What do we add to turn the space into a true JPHQ?
At the end of the day, every space is going to be unique to the business that it houses.
Our fit out has just kicked off after a three week delay with permissions. It's not easy to get things sorted when multiple entities and government departments have to sign off before you can get rolling. Thankfully our contractor has things under control.
Here's what the close to final layout will look like. We've intentionally left a large bare space on the left side of the unit so that we can keep things flexible and decide what to do with it later on. Perhaps we'll turn half of it into a fully kitted out photo and video studio!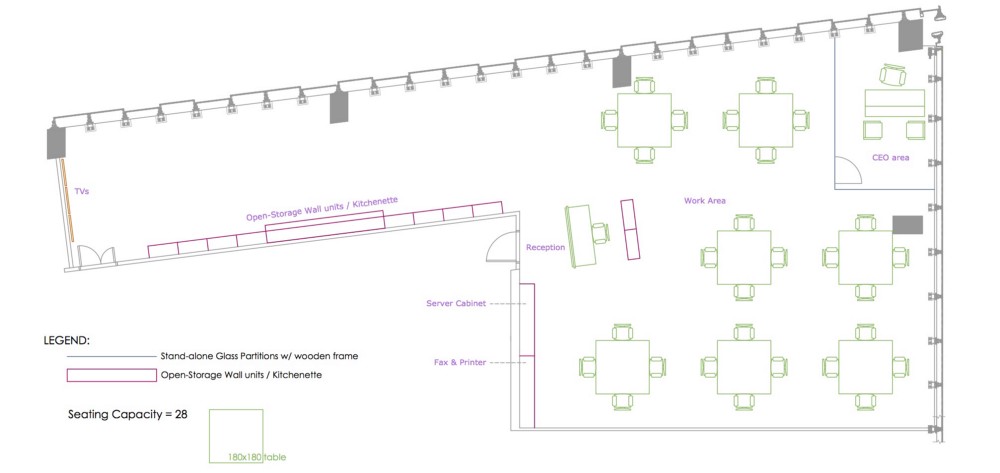 We're super excited! More updates as the fit out progresses.