This post originally appeared on the JadoPado Blog and has been re-produced here to preserve the JadoPado historical record.
We continued to evolve our approach to e-commerce with 2013 marking some important changes to the way in which we approached our business.
We've outlined some of our key data for the year. To keep things in context, we run an April to March financial year. The data below represents year to date (YTD) data from Q1 through to Q3.
Traffic
Traffic continued to grow steadily through out the year. Total visitors grew by 73.30% versus the same period in 2012. Pageviews grew by 64.11%. Our primary source of traffic was direct, Google Search came in second and Google CPC in third. During the course of the year, we cut our online advertising budget significantly and refocused on creating evergreen content. Traffic from emails also remains an important driver and we expect it to play a bigger role over the upcoming year.

Total YTD Visitors: 1,336,660
Total YTD Pageviews: 5,021,278
Orders
Our monthly average orders climbed 100.59% versus the same period in 2012. Total orders increased by 100.36%. We attribute volume growth to increased brand recognition and acceptance, as well as increased traffic to the site. It's a virtuous circle.
Total YTD Average Orders Per Month: 1362
Total YTD Orders: 12260
Sales
Sales grew by 81.24% versus the same period in 2012. While we very optimistically targeted to grow our top line to AED 36.7 million (USD 10 million) this year (a 2.4x increase versus 2012), we remain on track to achieve a number between AED 24.8 million and AED 27.8 million, representing growth of at least 1.65x versus 2012.
The roll out of International Shipping in March 2013 has contributed to creating an organic, but fast growing international business that has shipped goods from Australia to the United States, with the most volume coming in from the GCC and South Asia.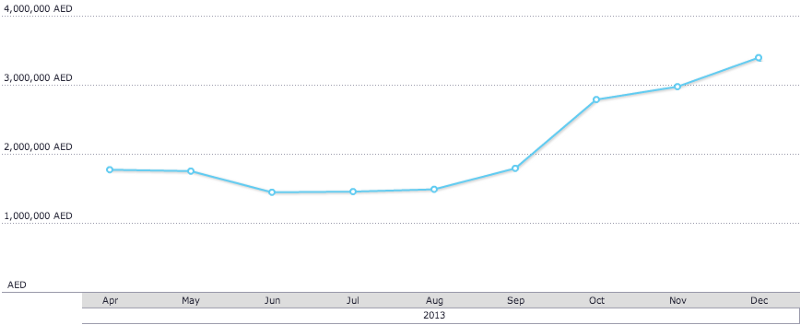 YTD Revenues = 18,841,738.50 (USD 5,128,399)
Expenses
In our quest for profitability, we reduced marketing and advertising expenses by 60% over the period. Payroll continues to be our largest expense item, making up around 43% of our cost base.
More recently we tweaked our logistics model to favour a variable costing model versus a fixed cost model.
Ups
We achieved a number of our objectives for the year. Some of the highlights include: International Shipping, JadoPado Shield (super cool accidental protection and extended warranty rolled into one), added PayPal and overhauled warehousing and logistics.
Downs
We over-expanded into a new space for JadoPado and increased our headcount with the expectation of higher and faster growth. This proved to be a mistake that we had to fix in August 2013. While painful at the time, it provided tremendous perspective and has refocused us on being more nimble and better placed to continue to grow and survive.
What's Ahead
We'll continue to focus on building and scaling our core e-commerce experience while we build out incidental revenue streams such as advertising.
Mobile will remain an area of deep interest, as we expect to overhaul our entire experience over the next few weeks. Check out a sneak peek of what's to come by jumping over to the just refreshed JadoPado Help Centre.
We've also got a few interesting social related ideas that we plan to weave into our e-commerce experience over the upcoming year.
Thank you for all your support! Here's to a great 2014!