This post originally appeared on the JadoPado Blog and has been re-produced here to preserve the JadoPado historical record.
Over the last three years, we've been running a tongue-in-cheek campaign every October targeting GITEX Shopper and GITEX Technology Week. For anyone not in the know, the first is a retail event for consumers, while the second is the region's largest technology event.
Back in 2011 we made up the hashtag #notGitex and figured that it would be a nice way to get consumers to consider e-commerce over going out to GITEX Shopper or shopping in store. Pretty standard stuff for an emerging business and a very nascent industry.
2011 went off without a hitch. We'd been around for 7 months and were most definitely under anyone's radar.
2012 happened and we ended up partnering with Dubai World Trade Centre (DWTC) as GITEX Technology Week 2012's E-Commerce Partner. On the last day of our #notGitex campaign, our contact at DWTC dropped us a casual line stating:
"We have come across JadoPado's #notGITEX promotion.
Although we understand the intent behind the campaign and it may be a good tool to motivate people to purchase products online, we feel being our e-commerce partner, our brand name should not ideally be used in this manner.
I understand that your campaign is mid-way, perhaps almost done or at its last stage — but maybe you can change its name to GITEX Shopper for now instead of GITEX since that is the retail side of things — and you are very much a part of GITEX TECHNOLOGY WEEK."
We responded back stating that it was the last day and that all of our collateral would be taken down by midnight. We exhibited at GITEX 2012 for the first time, had a blast and that was that.
The months tick by to September 2013 and naturally our thoughts turn to GITEX being around the corner. Both Karlo and myself unfortunately, completely forgot about our communication with DWTC and decided that it was obviously time for another round of #notGitex.
We decided to kick things off a bit earlier than the start of GITEX Shopper and figured that we'd get a head start by running #notGitex on the 1st of October rather than the 5th of October. The momentum built up pretty quickly and sales snowballed to give us our strongest start to a month, yet.
One the evening of the 7th day of our campaign, we were hit with an IP infringement notice by DWTC's law firm. I've included it below for the sake of transparency, while removing any personal details.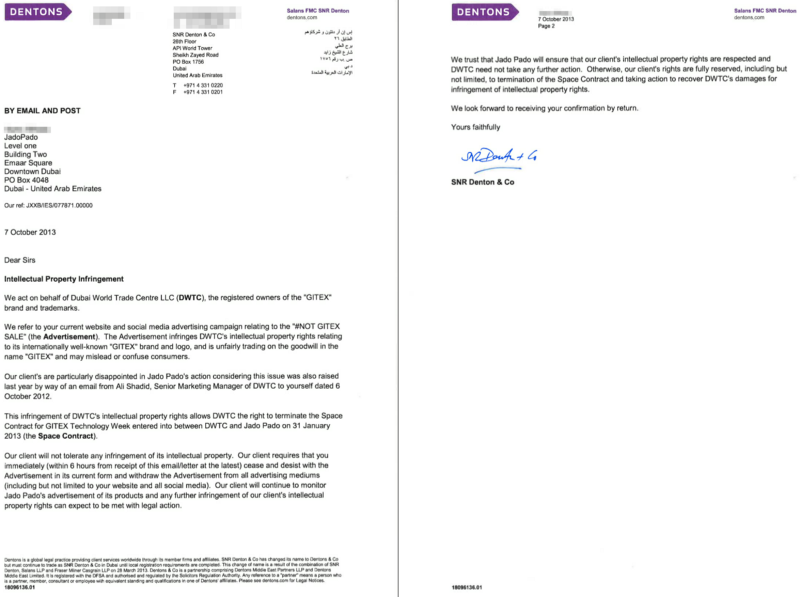 We were somewhat take aback at what we felt was a bit of an overreaction, but decided to immediately act to change the name of the campaign in order to meet the six hour deadline.
It didn't take very long to come up with an alternative non infringing name called #notShopper. Obviously, tongue-in-cheek was a necessary requirement.
I wrote back via email to the partner at Dentons, apologised and informed him that we'd changed the name to two generic words that were no longer infringing, while explaining that we'd unfortunately not recalled our conversation with our contact at DWTC. I also decided that it was best to point out that threatening to cancel our space contract for GITEX Technology Week was distasteful and unnecessary, while seeking clarification in terms of how we can or cannot use the GITEX name and related IP to attract visitors to our stand and by extension to our business.
When we didn't hear back the next day, I called up the partner and was somewhat reassured when I was told that the changes should be fine and that he was waiting to hear back from his client.
Later the same afternoon, the partner responded via email and stated that his client:
"..would also like you to remove the name 'Shopper' from your campaign with immediate effect. DWTC also own the trade mark 'GITEX Shopper' and such use by JadoPado is still unfairly trading on DWTC's goodwill and registered trade marks (especially considering the timing of your campaign at the same time as GITEX). Again they reserve their rights in this regard (including but not limited to cancellation of the Space Contract). "
That made me laugh. Somewhat. I responded back and stated that:
"Unfortunately we will be unable to remove a word that is generic and is unrelated to your client's trademark. The timing of our campaigns is a business decision and is not determined by the ownership of your client's trademark or the events that they run.
If our Space Contract is to be cancelled, we would appreciate a full refund and reimbursement against documented additional costs that we have borne with regards to our participation at GITEX Technology Week. We will not include any loss of future business and so on."
I was asked to reach out to a Senior VP to clarify the use of the GITEX name and I managed to do so the next afternoon. The story took an interesting twist at this point:
The conversation turned out to be very amicable and I was told that someone on the GITEX team should have reached out prior to a notice being issued. Our Space Contract would not be cancelled and that these types of notices were quite common and had been sent out to multiple large retailers in prior years.
I was told that the primary reason for the notice was to assure GITEX Shopper's retail partners that action was being taken against any infringement by DWTC. Obviously no one wants to pay to be at an event where they aren't getting their money's worth.
I was also told that the using #notShopper was absolutely fine.
A few takeaways:
We have to be super careful not to infringe anyone's IP. Unfortunately IP laws in the region remain very nascent and infringement remains very common. We've had our own share of issues with others infringing our IP and it definitely isn't a pleasant experience.
We'll continue to build campaigns to take advantage of key events and so on. It's a natural move for an upstart.
We're slowly getting to a point where our larger retail competitors and the eco-system around them is beginning to take notice. I've taken this to be a good sign that we're hopefully on the right track.
And to wrap up, a few interesting examples of infringements by e-commerce retailers this year. I wonder how many of them were hit with similar notices. A few of them have actually used and modified the GITEX Shopper logo and font, which in my book is a whole other ball game.