It isn't every day that a $1 billion dollar startup launches in the Middle East, let alone in the e-commerce space. Following on from my post in September 2016 I've been keeping an eye on noon's domain and infrastructure to see what pops up.
On the 2nd of November 2016, a few days prior to noon's big public announcement, I spotted that beta.noon.com had started to resolve, sitting behind an nginx powered, HTTPs basic authentication window.

I've been putting this post off for a while as my initial idea was to dive as deeply as I could into noon's stack by looking at what was sitting at various levels from DNS downwards. However, noon's beta recently popped up publicly for a short while, giving me an opportunity to poke around and take an early look at their upcoming product.
Here's what I've seen so far:
Homepage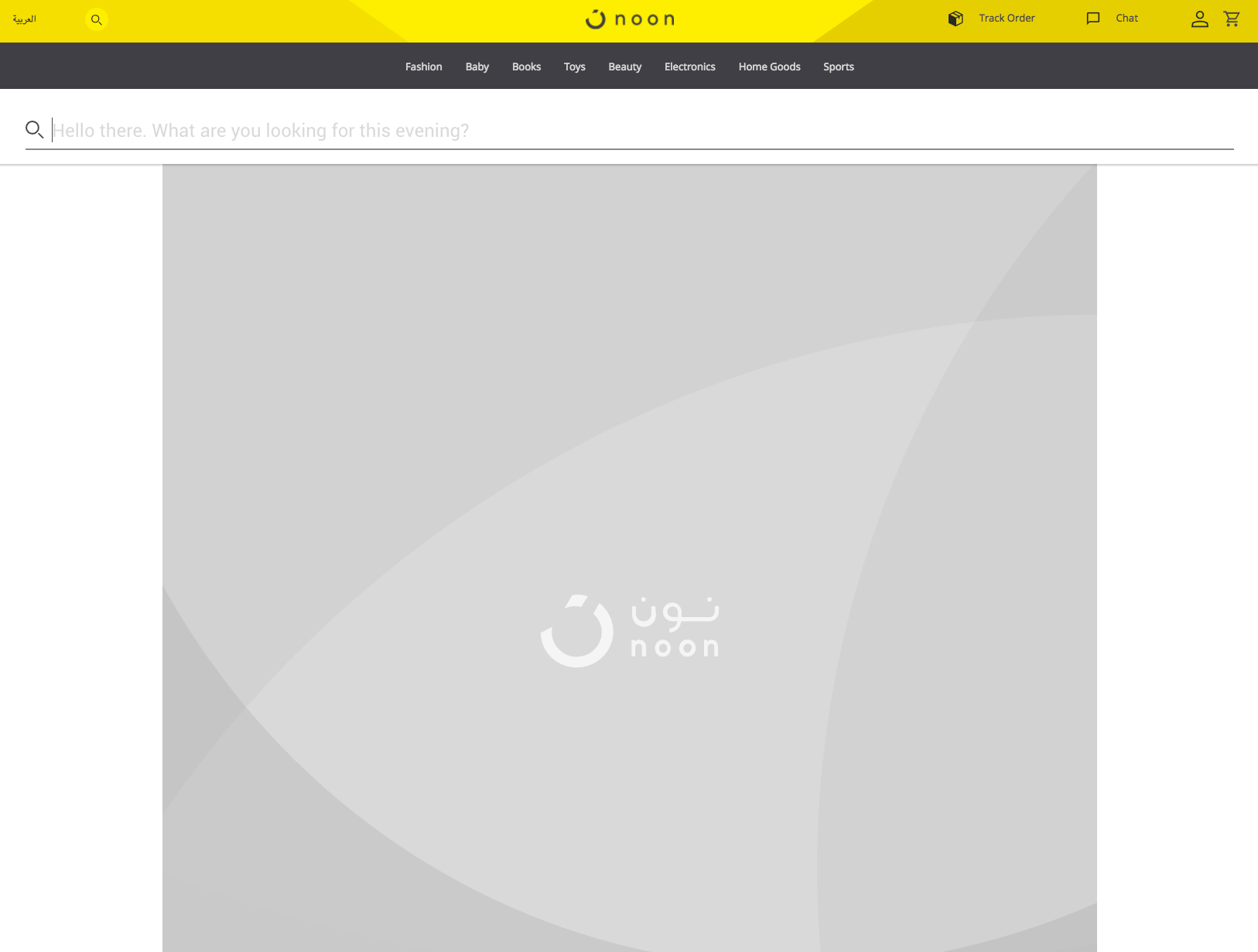 You land on a responsive page where a large hero banner greets you. Up top you'll find from left to right a toggle for Arabic, a magnifying glass icon to access search, which is popped open by default. If you're signed in, the default help text in the search bar will greet you with your name and the time of day. A nice touch.
The top navigation bar continues with the noon logo which always brings you back home, followed by a very prominent Track Order button.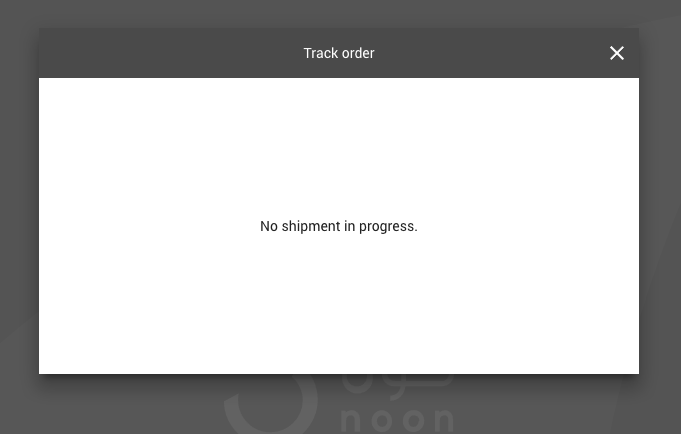 Clicking on the button results in an on-screen overlay that provides a view of upcoming shipments. Given the prominence of the button and the fact that it results in a pop up rather than taking you to another page, suggests that noon is working on some form of speedy delivery with (live?) tracking built in.
Next along is a Chat button, which isn't functional at this time. Taken together with Track Order, it feels like noon has squarely set its sights on an immediate, highly responsive, real-time like experience.
The top navigation ends with an icon representing a person which takes you to your account followed by a cart icon, which takes you to your cart!
Below the top navigation is a slim black navigation bar with links to top categories. This is visible on initial load, but disappears as your scroll. The top navigation bar retains a permanently fixed position.
The rest of the homepage is broken into a variety of banners and sections such as best sellers. Standard fare for an e-commerce offering.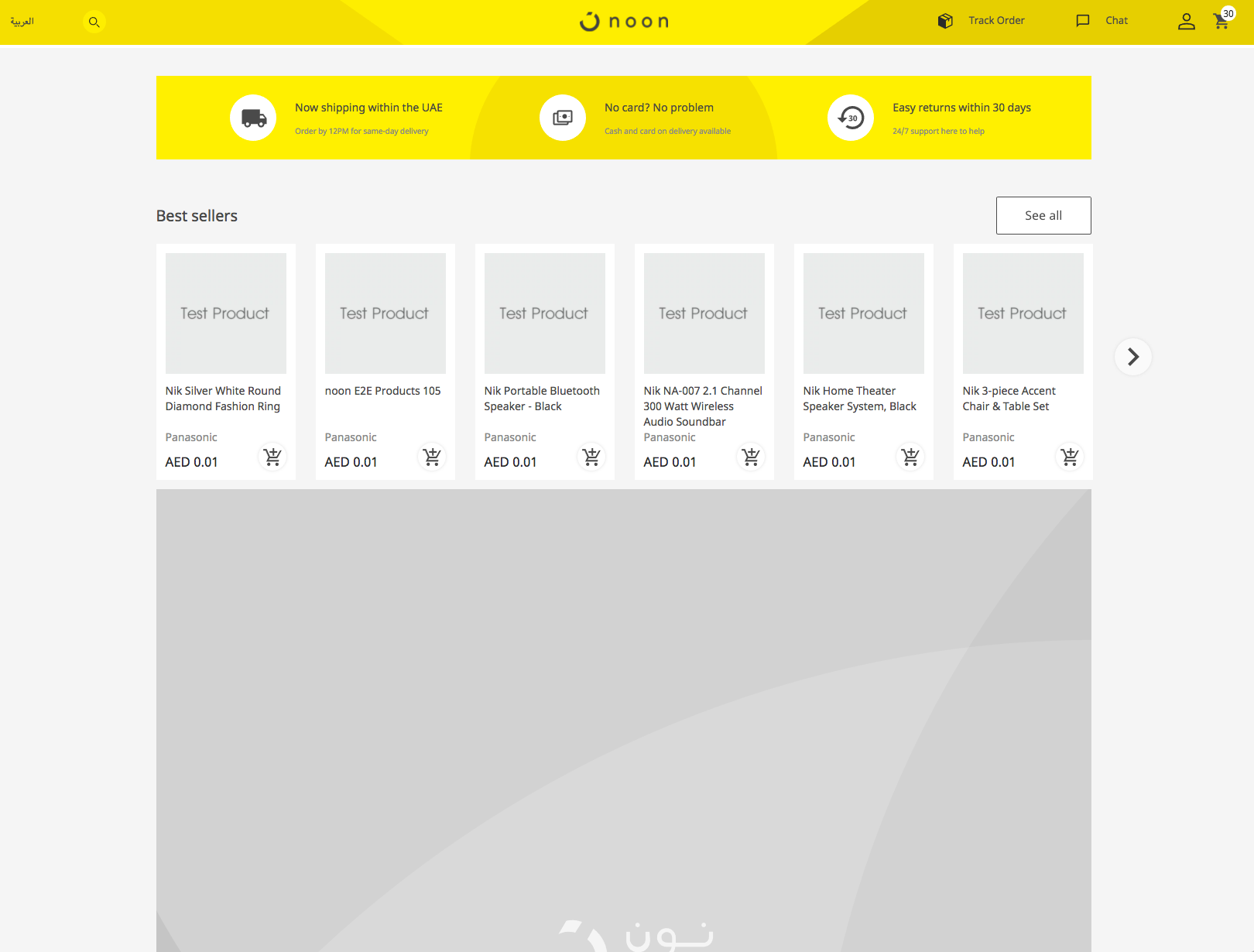 Wrapping up the home page we arrive at the footer, which is double height and is split into a black area highlighting key categories with icons, whilst a call to action takes you to an all categories page that I wasn't able to access. The second half of the footer is a shade of dark grey and includes two lists of categories, a set of links to other areas of the noon site as well as the usual social icons, app icons and contact information.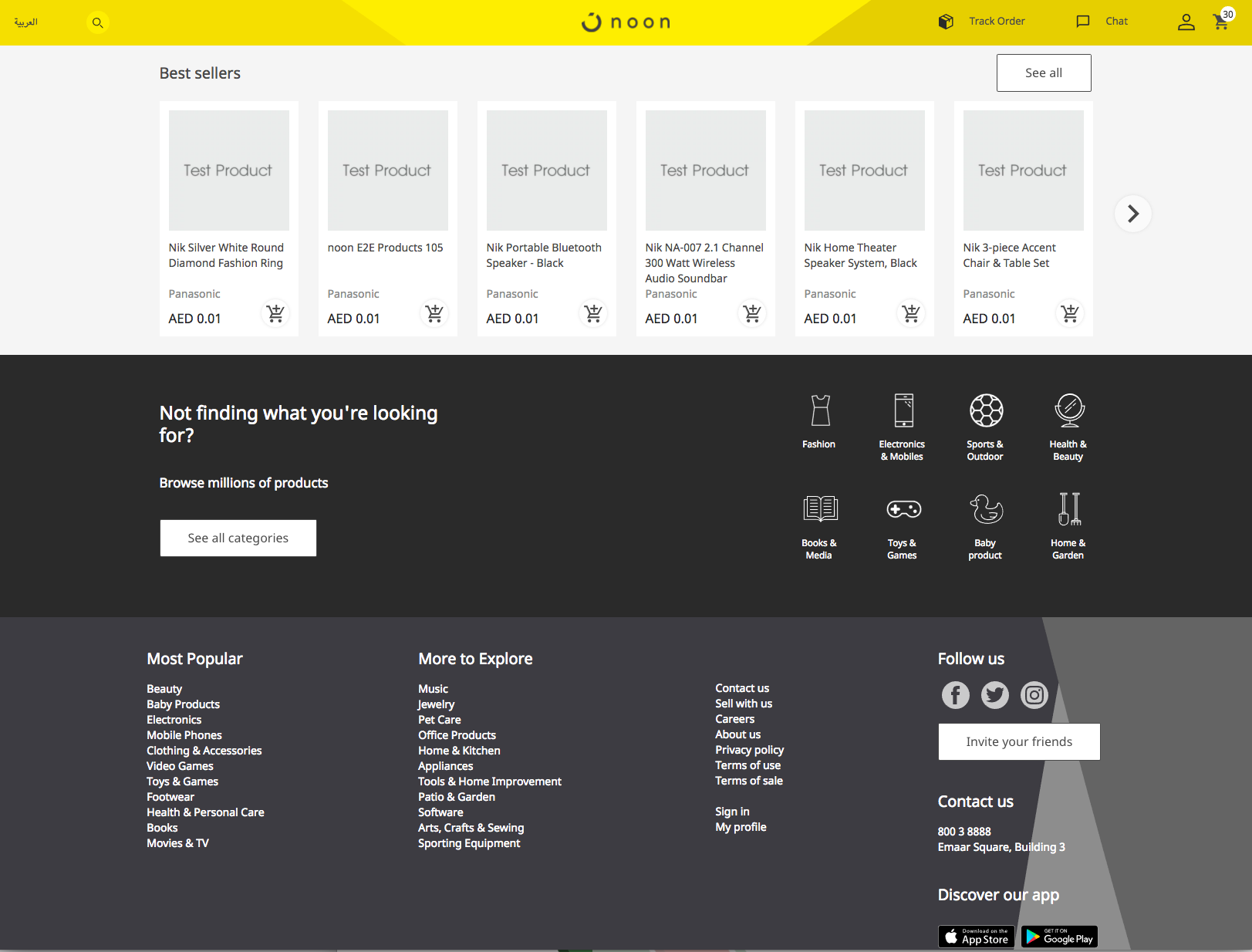 Categories
Category landing pages differ in terms of layout based on which category you've selected.
The Electronics category landing page has a row of rotating subcategory banners followed by an area that highlights specific individual products.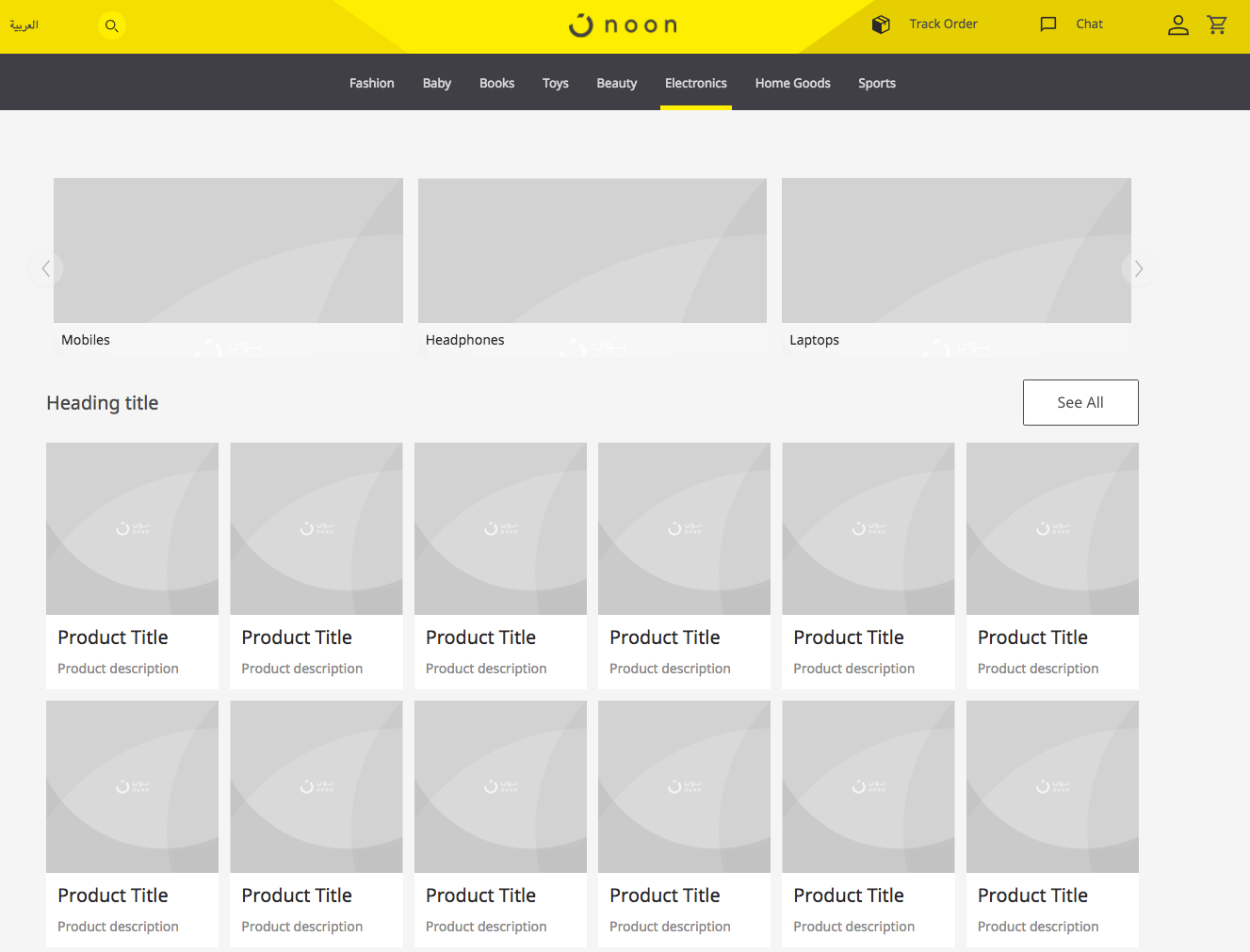 As you scroll further, the page gets a little bit more interesting with a mixture of text links highlighting products within a subcategory, a section for best sellers and more text links leading off to other subcategories.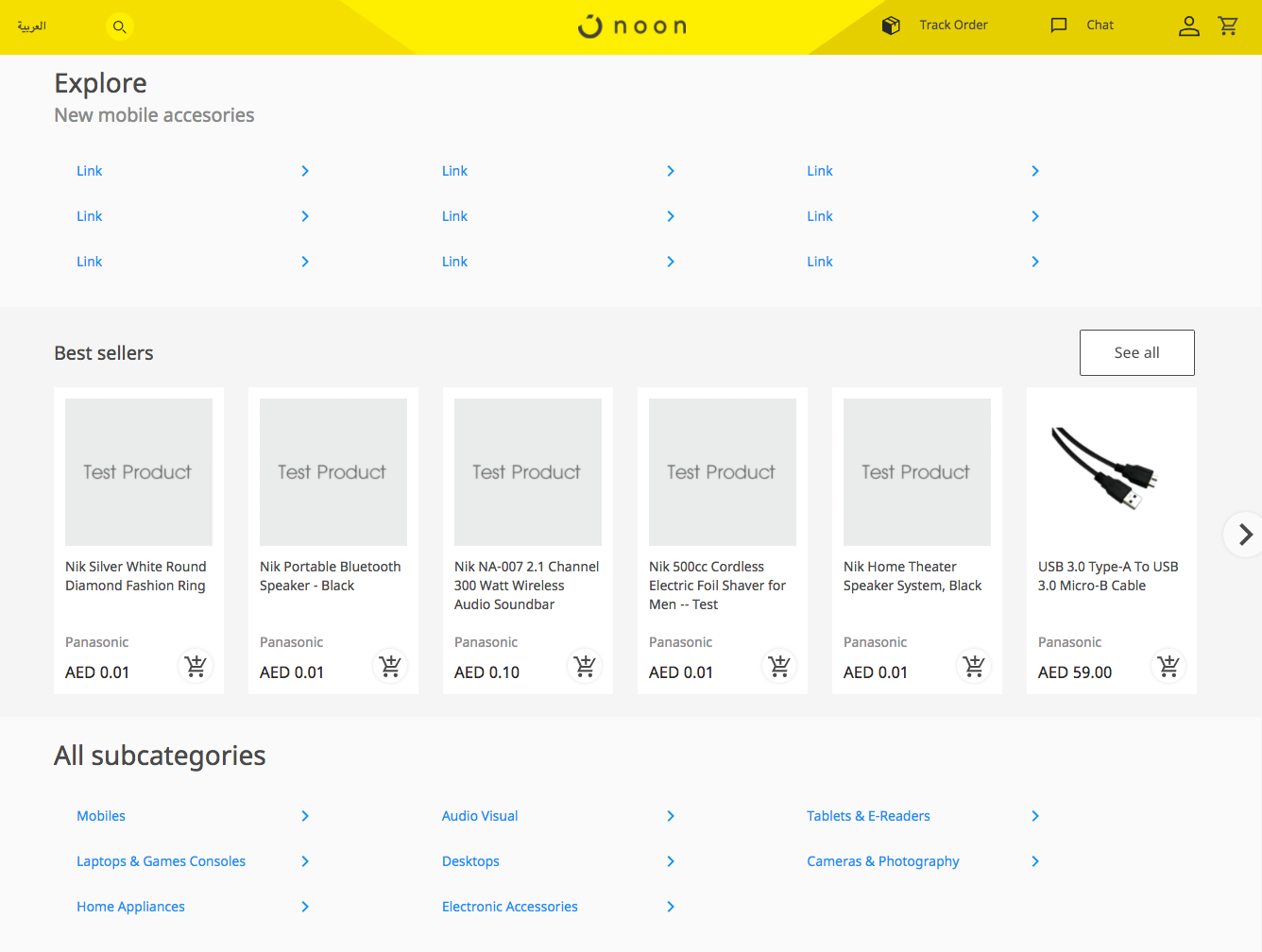 The Health and Beauty category has a slightly different layout, including a set of narrow banners and accompanying text leading off to subcategories, a list of best sellers, followed by a hero banner image.
It is natural for primary category landing page to vary a fair amount, as they will tend to get traffic from SEO, PPC as well as direct, making them key merchandising opportunities. Over time, they'll turn into real estate that brands and sellers will be willing to pay for.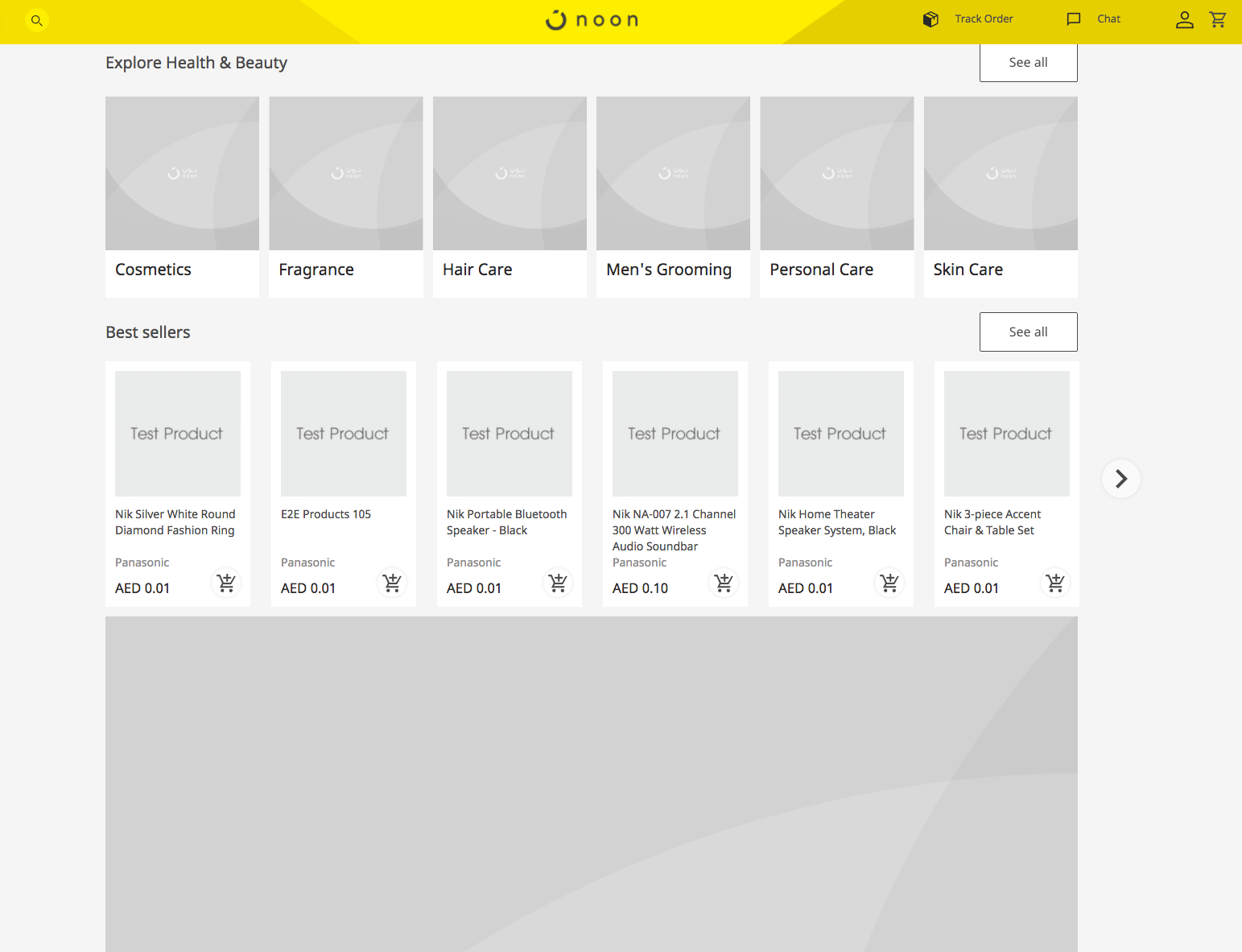 Product
noon's product page compromises of a large hero image, a product information box that includes a product title, price, a quantity drop down and two call to actions. It is notable that the Buy now button is yellow and is highly visible whilst the Add to Cart button is white and blends into the page. This again points to noon's experience being built around immediacy versus your typical e-commerce experience. The Buy now button wasn't functional, but the Add to Cart button added a single quantity to my cart.
The other bit to note here is the text that states "Sold and Fulfilled by noon". My understanding is that noon will procure inventory as well as take it on consignment from those who are willing to give it to them. Suppliers have been asked to ship inventory to noon's warehouse, from where all fulfilment will take place.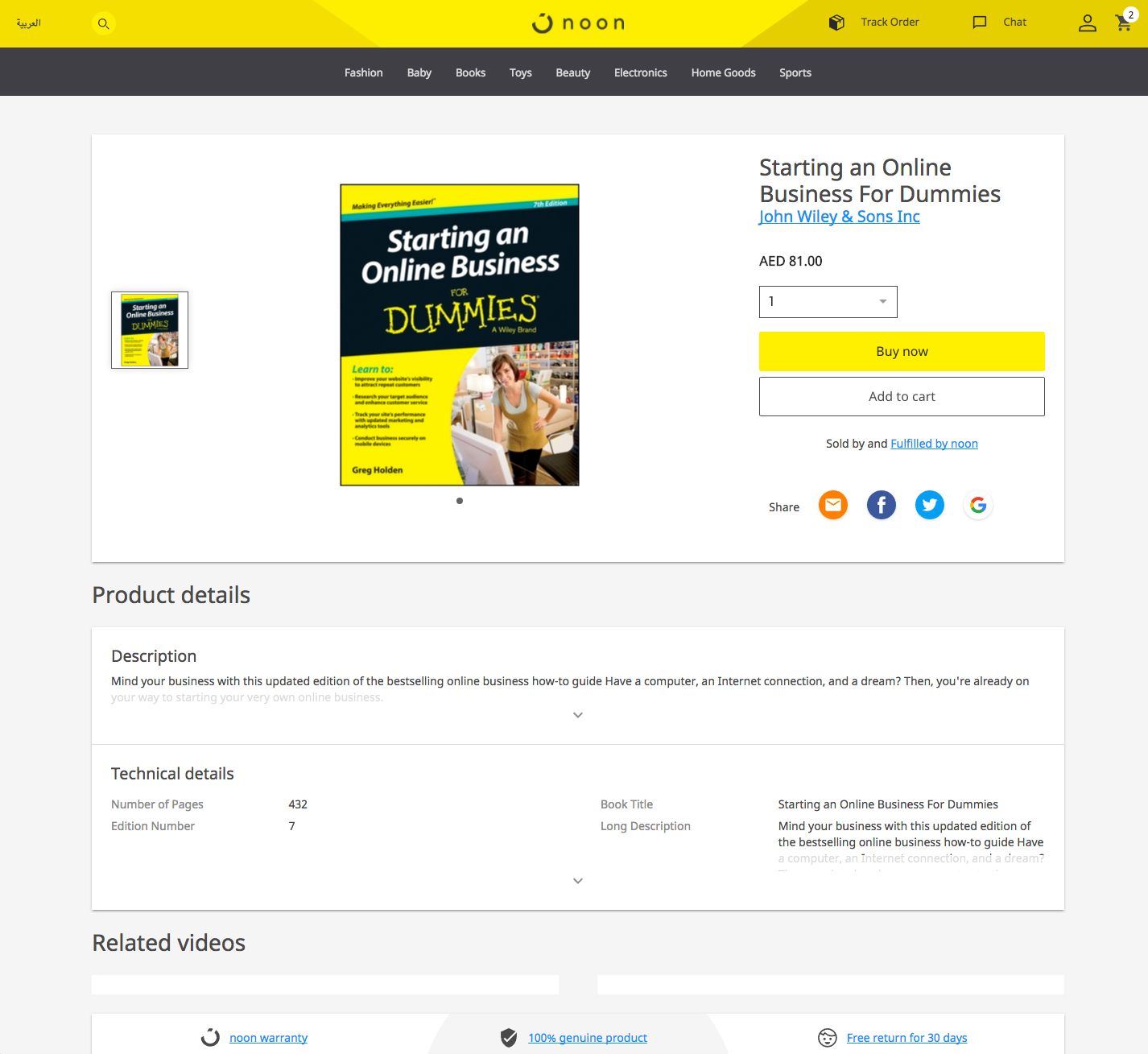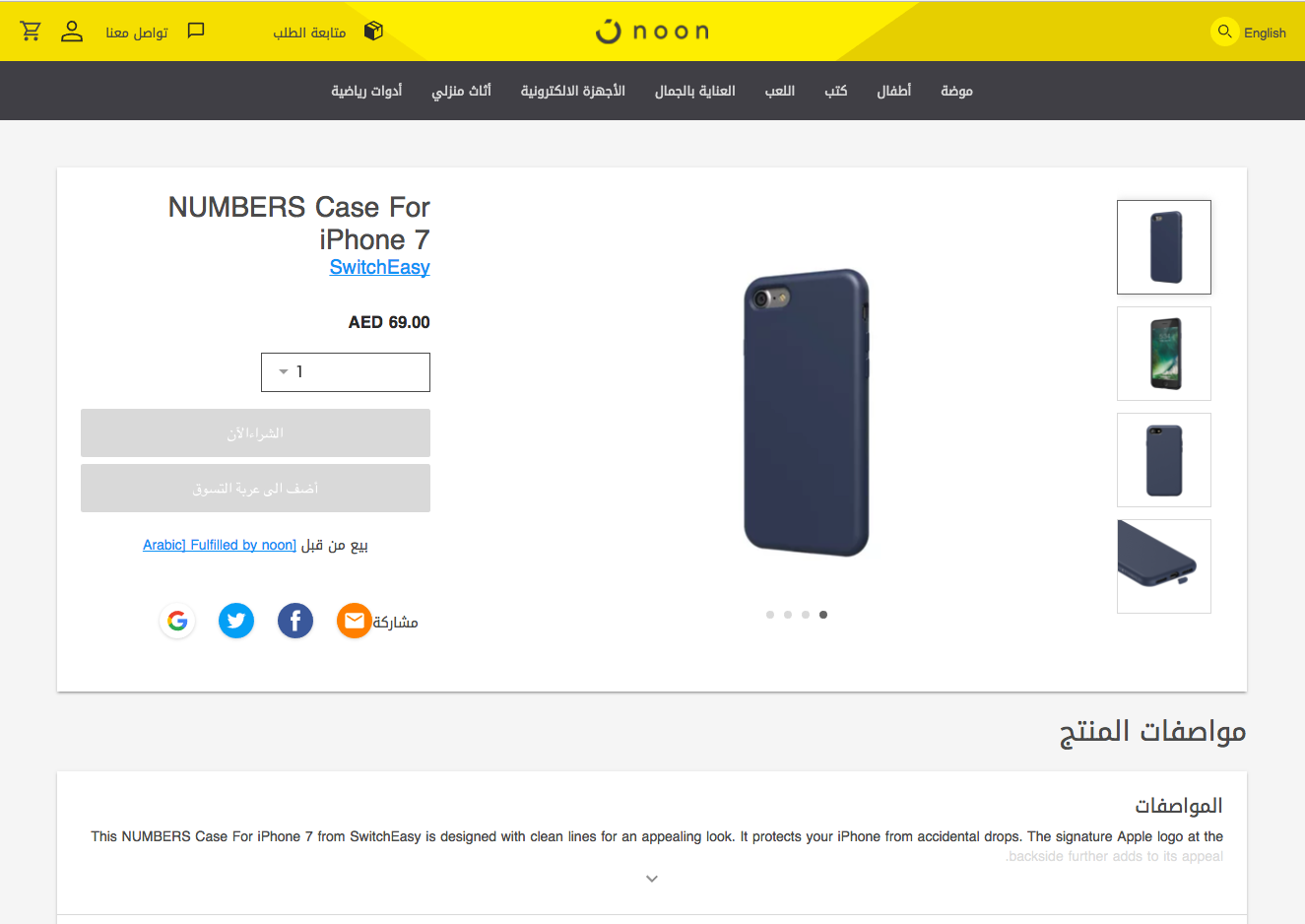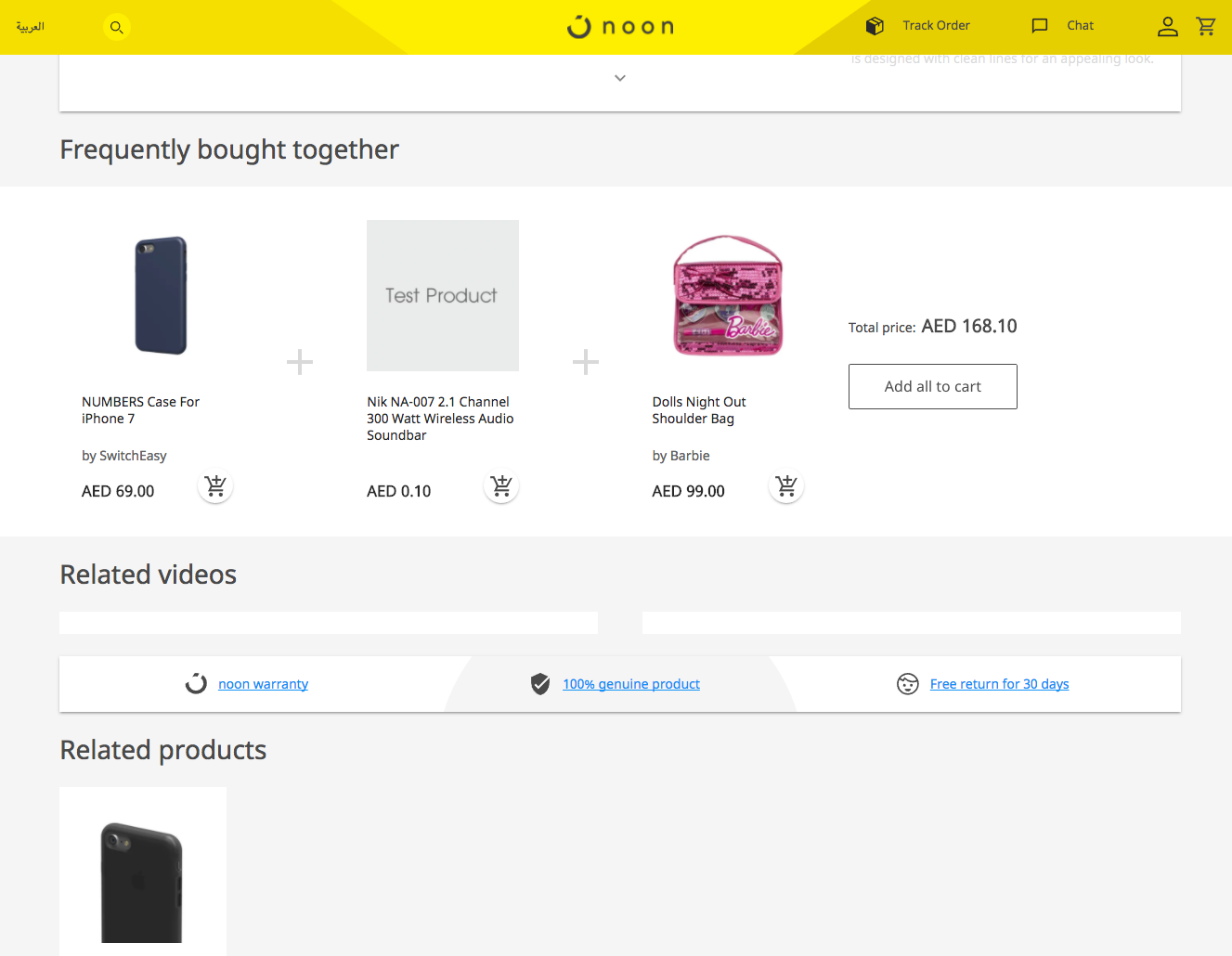 The rest of the content on the product page compromises of a description, which at a quick glance looks like it is brand, manufacturer or publisher copy. Some products include technical details, with attributes varying by category. A couple of widgets that provide bundling opportunities and display related products were also visible.
Sign Up and Account
Sign up can take place via a mobile number, email address or the usual triumvirate of Google, Facebook and Twitter. I was able to sign in with the same credentials that I use with a test seller account.
noon's account area is broken up into Orders, Returns & Exchanges (sic), Address book, My Wallet and My Profile. Each area has default landing text and appropriate call to actions if no data is available yet.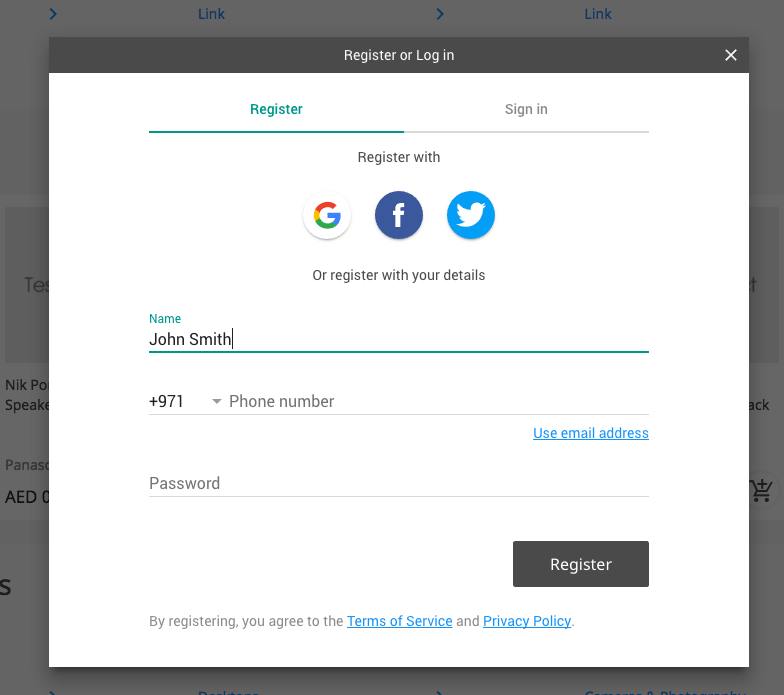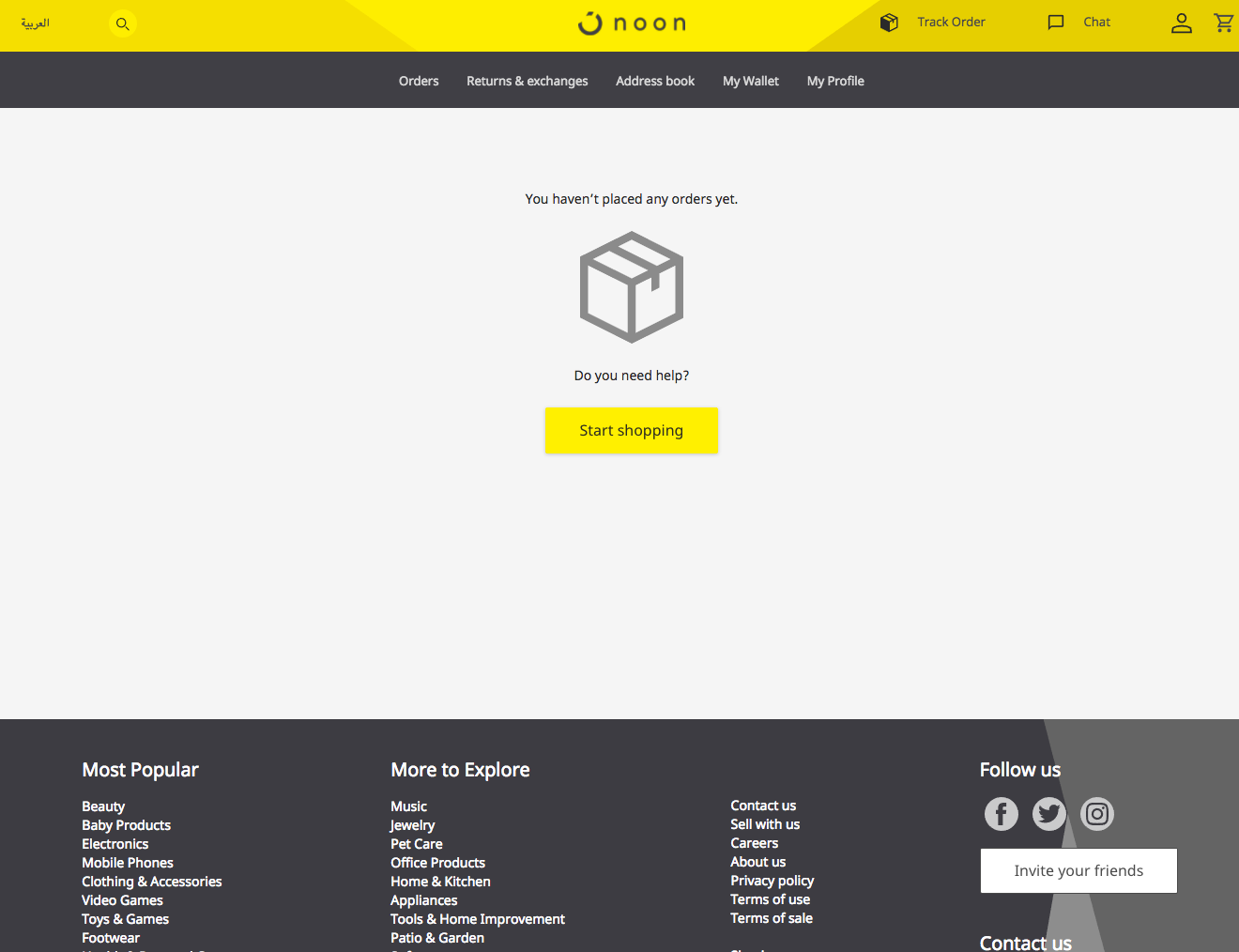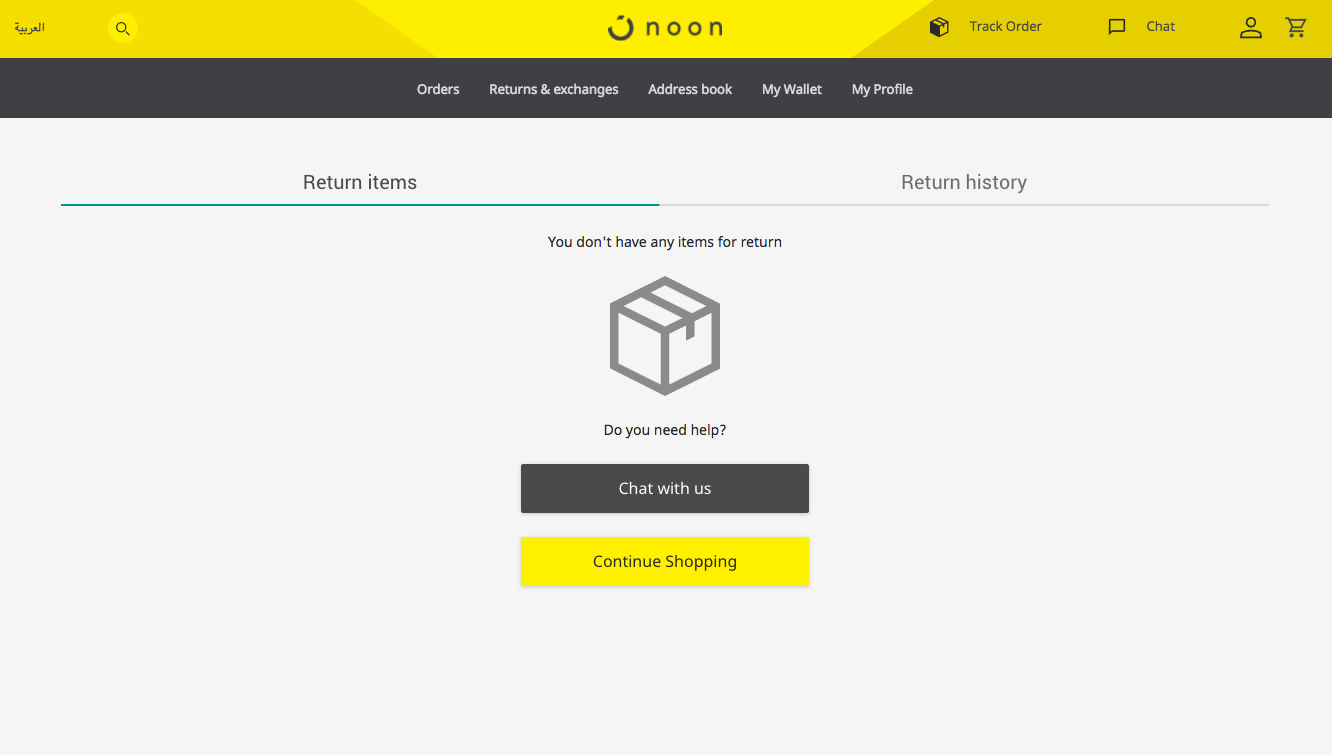 It is very encouraging to see that returns handling has been thought through and has an area dedicated to it. Unfortunately this has tended to be a bit of an after thought in the region.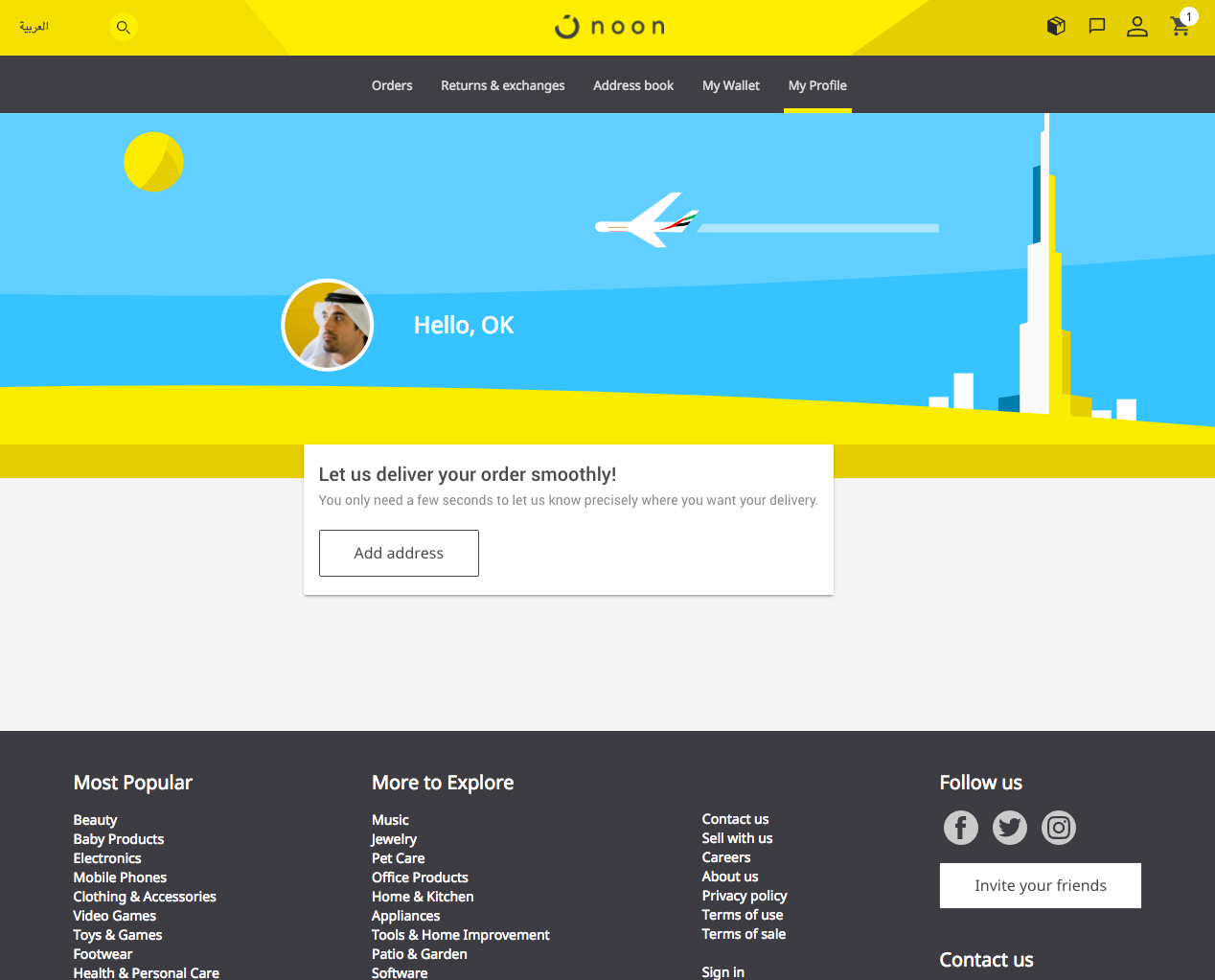 I'm not sure who this handsome Emirati man is, but I assume that he'll be replaced with your own image if you sign up or sign in with a social service that provides access to a profile image. The Address Book page is the most colourful that I came across and matches noon's pre-launch landing page. It's an interesting detail that the Emirates Airline graphic has been carried over.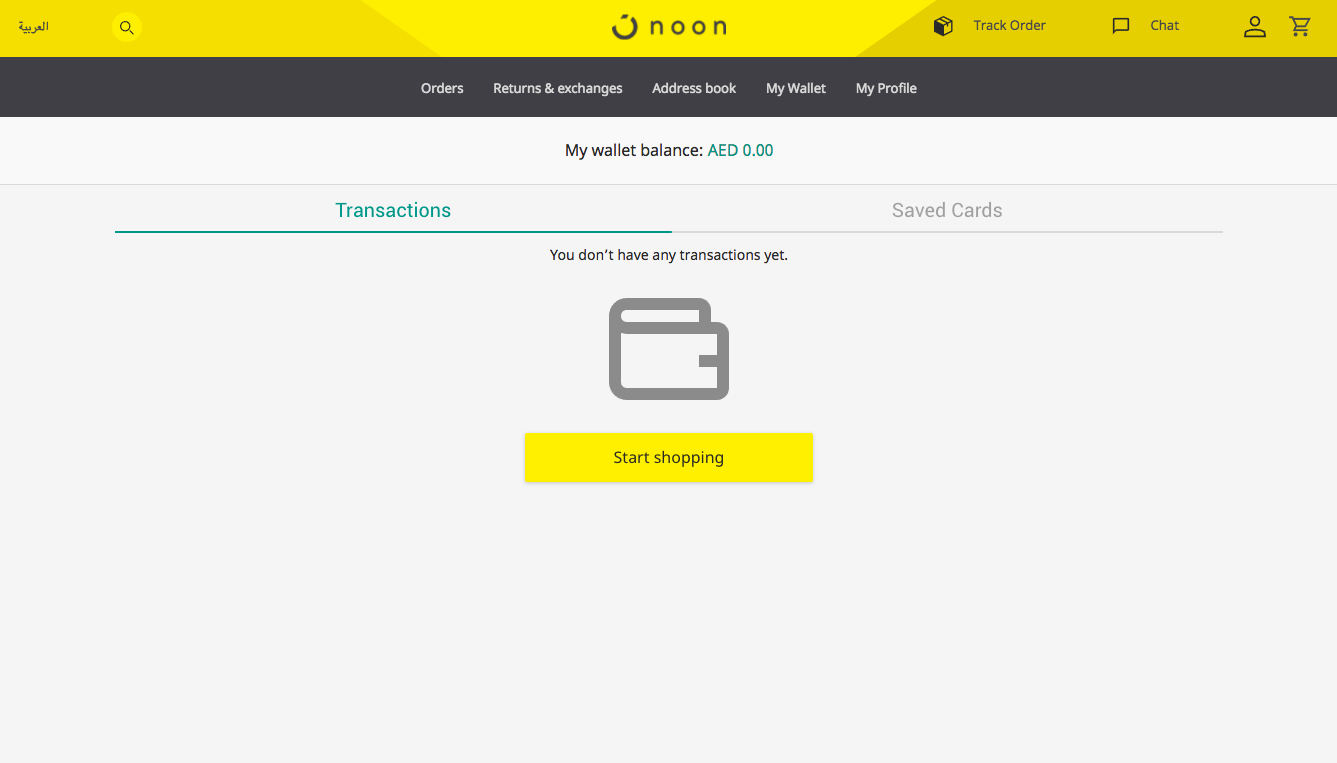 The last area of interest is My Wallet, which provides transaction history as well as a way to manage your saved cards. I tested this using test card numbers from CyberSource and added a Visa as well as an Amex card. This seems to confirm the rumour that noonPay will initially be a wrapper on top of CyberSource, but I've been told that these card numbers work with other payments gateways as well.
Cart and Checkout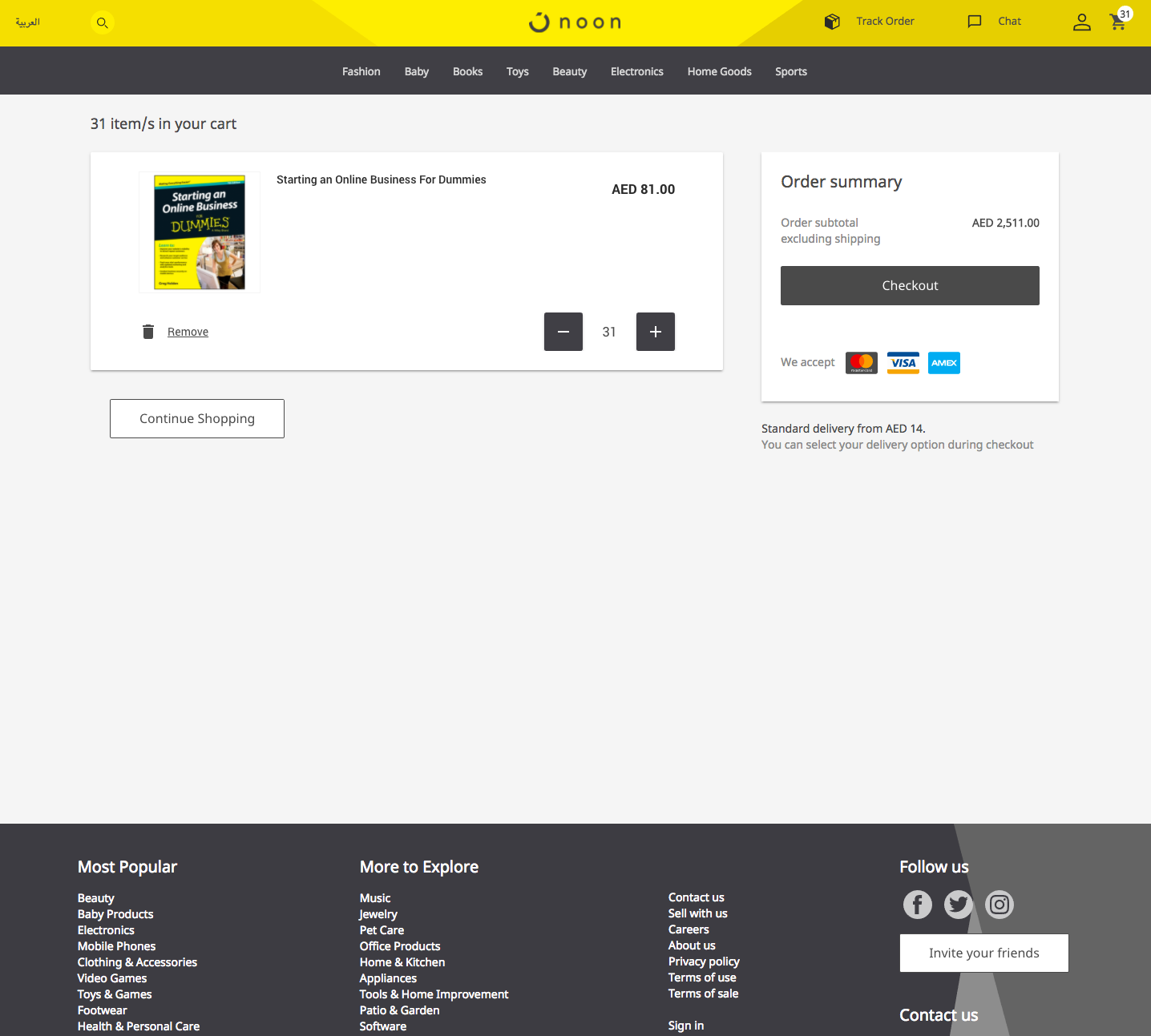 Hitting the cart icon in the top navigation bar took me to a cart page, summarising my order and giving me two call to actions, one which allows you to continue shopping and the other which takes you to checkout. The payment icons on the page notably don't include an icon for Cash on Delivery.
A line of text notes that delivery starts at AED 14. Assuming that this number is not a filler value, it lines up with local delivery costs in Dubai and if anything is a touch cheaper than other carriers.
I incremented the number of items that I had in my cart and managed to rapidly increase the item count as well as the corresponding AED value. It did not feel like this was connected to noon's ERP system as I went well beyond a reasonable in-stock count for the SKU I tested with.
Hitting the Checkout button, I moved to the first step of checkout. noon's checkout is not enclosed, which is a know industry best practice to remove unnecessary elements to minimise distraction and help customers journey efficiently through the purchase funnel. The top navigation bar remain visible and allows navigation elsewhere using any of its icons.
The delivery method is titled "Personal delivery" with what looks like a noon truck icon perhaps indicating that noon may have its own fleet up and running at launch. The delivery cost stated an overly reasonable AED 15 with a bunch of items in my cart, making me question if an actual calculation was yet to take place.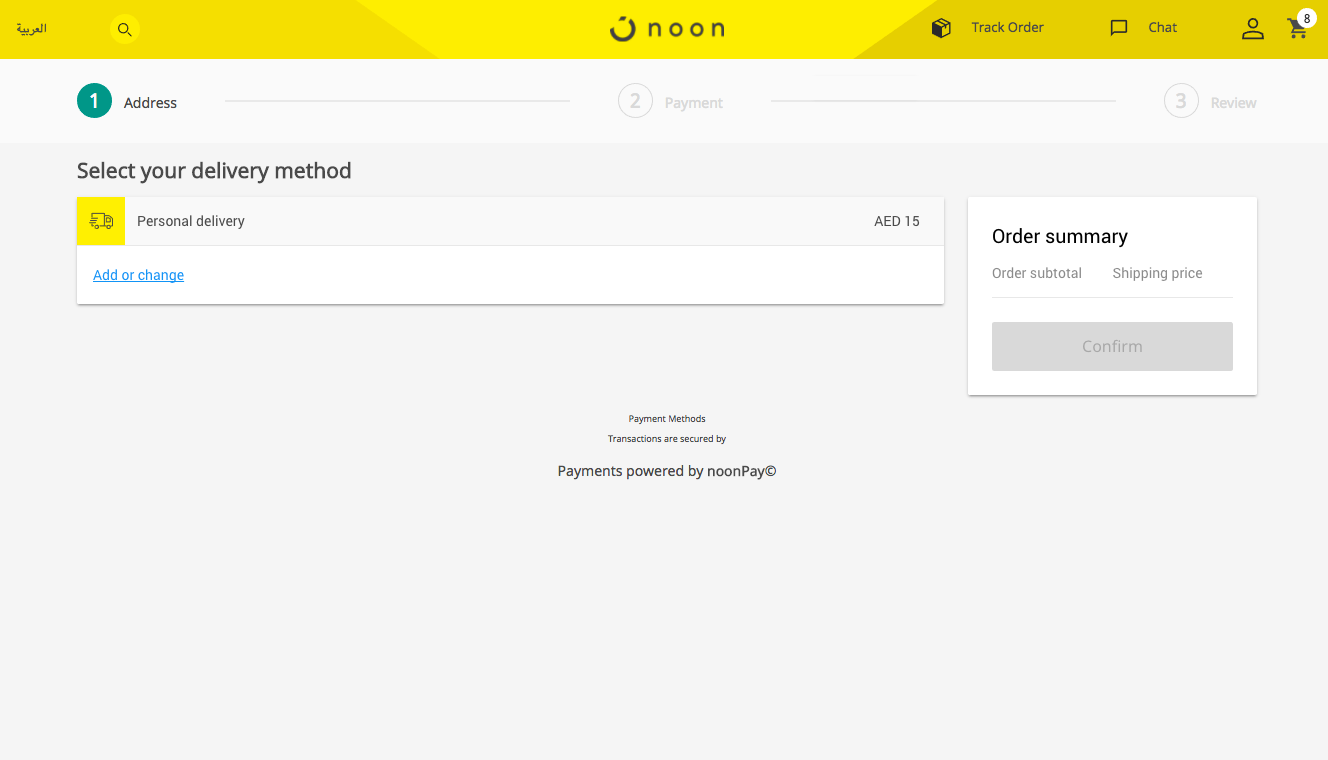 I hit the "Add or change" link which took me to a select your address screen, where I hit the Add new address button.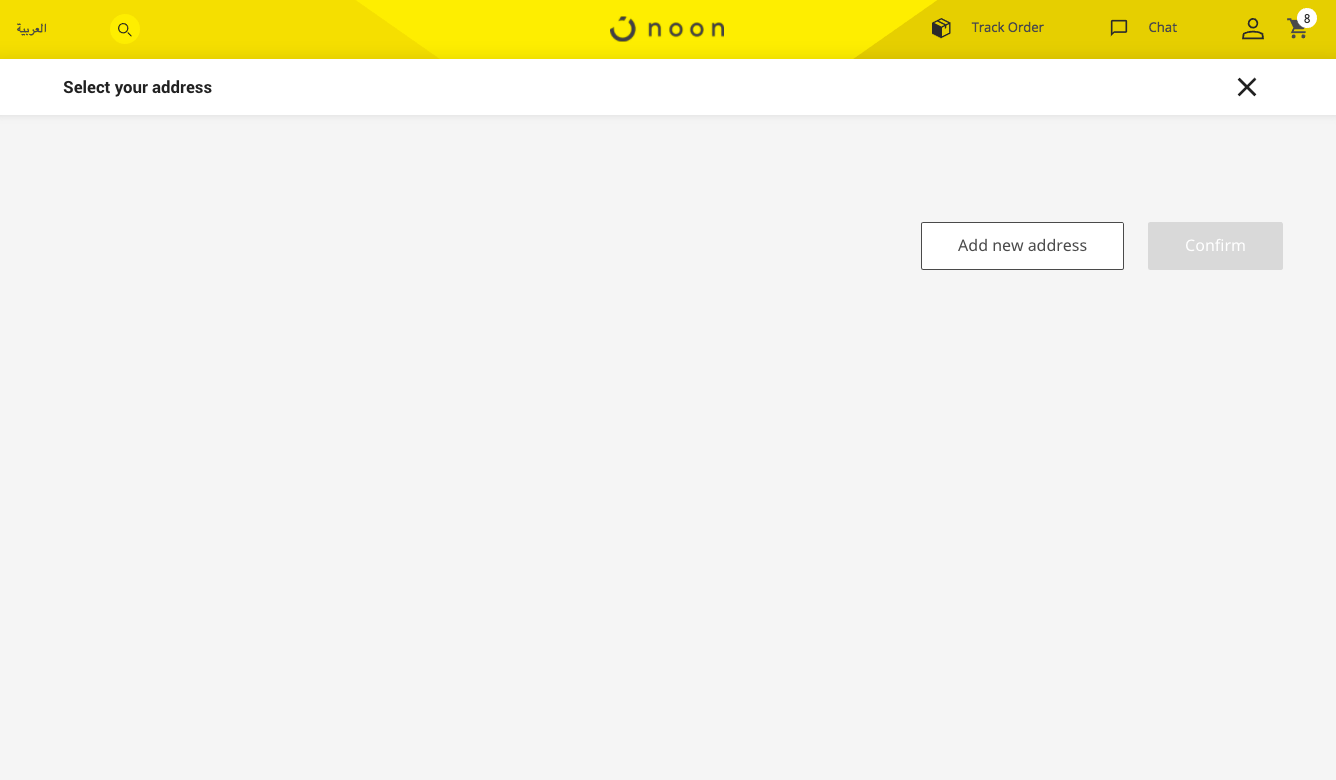 I arrived at what for all intents looks like a search bar. I typed in city names, country names and all sorts of other things before trying the Done button, which eventually took me to a standard address form.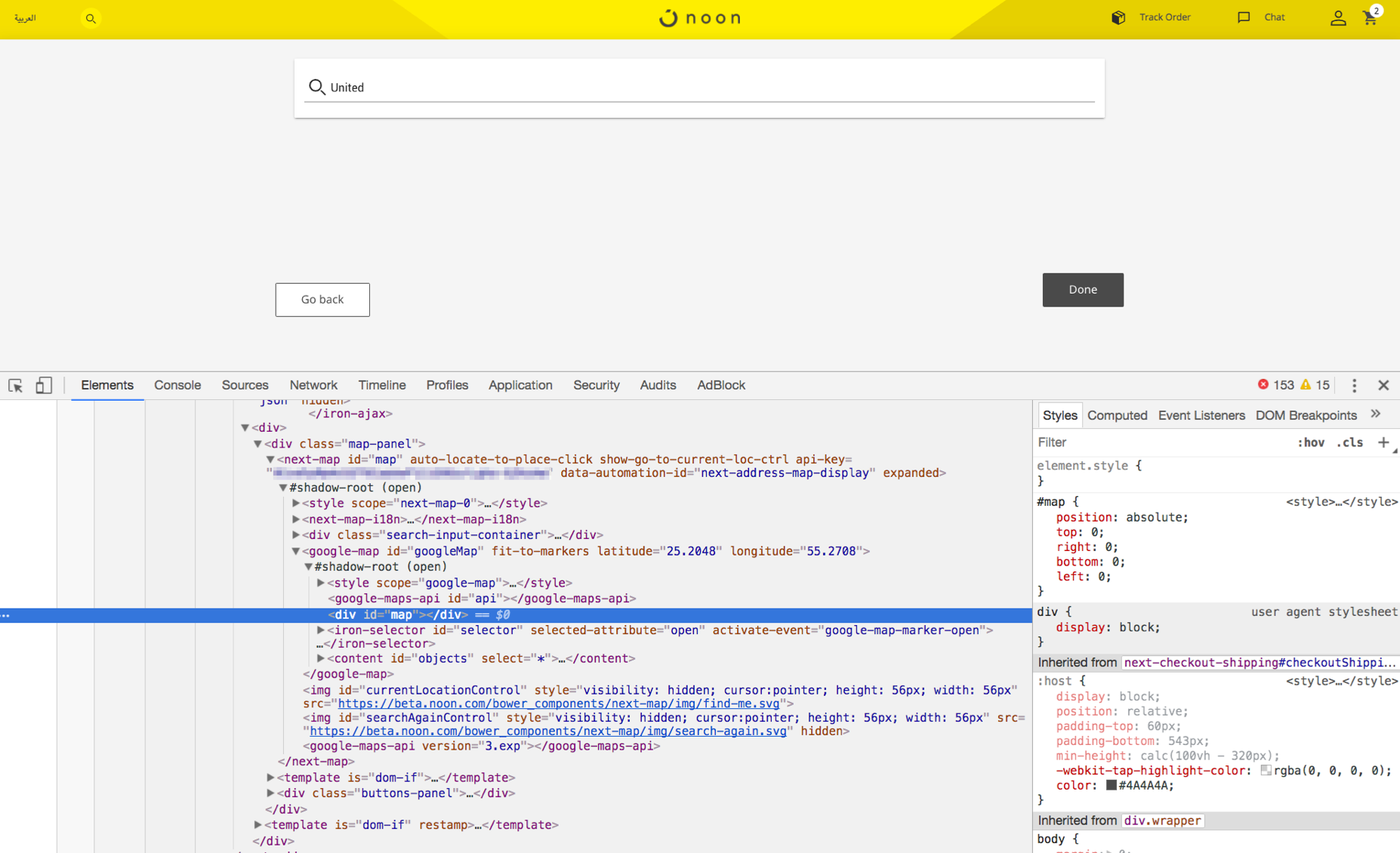 I was able to fill out every value on the form save for the Country and City field which would always take me back to the search bar. It took me a while and a look at developer tools to figure out why this was taking place. While it wasn't loading up, this particular page was attempting to load Google Maps and assumedly use the search bar to narrow the viewable area to one that was more relevant.
A Google Maps API key (hopefully one that isn't going to create a security incident) is visible as is a set of latitude and longitude GPS coordinates. The two in my screenshot point at the first interchange on Sheikh Zayed Road, which is where Google Maps places its Dubai label. Centring the map at this point may indicate noon's use of geo IP information to get a broad city location.
The use of Google Maps to capture GPS coordinates again points to noon's intent to build an experience around immediacy.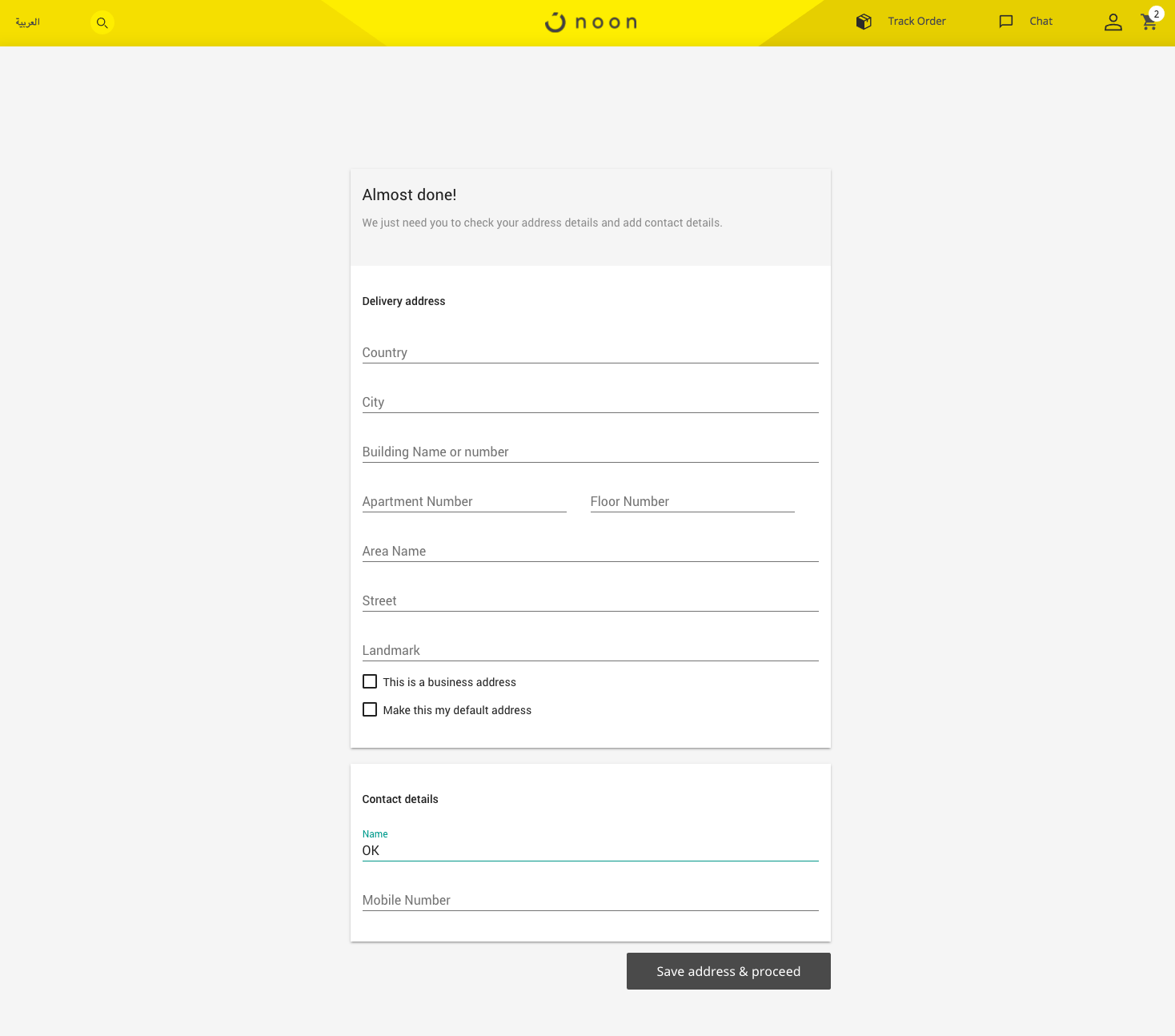 As I was unable to manually fill out the Country or City field, this prevented me from unfortunately getting any further in the checkout process.
Terms of Sale
noon's Terms of Sale is a long document, so I won't go into all of it. It does however make for interesting reading and provides more insight into their business model.
2.3 states that they only accept Visa and MasterCard versus the Amex logo on the cart page together with being able to add an Amex test card to my account. It does however confirm that Cash on Delivery will be available.
The final bit of 2.7 c) is interesting in that it states "collect from us". I wonder if this indicates that pick up points or the ability to pick up directly from retailers is in the works for the near future.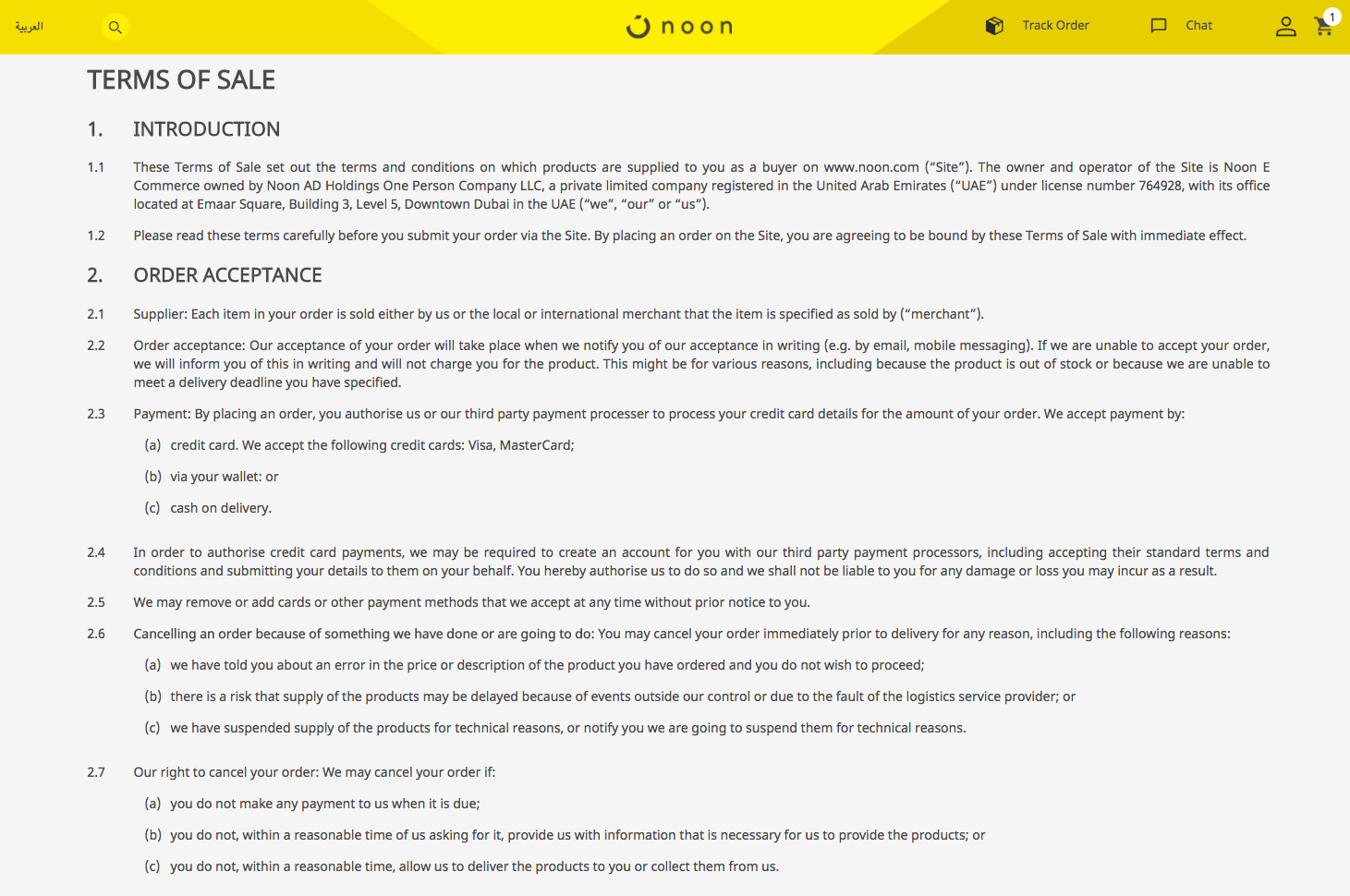 3.4 indicates that noon may work with suppliers that aren't located locally potentially moving away from a fully stocked model in the future. This makes sense given the sheer size of the catalogue that they're aiming to carry. At some point, it won't be commercially viable to carry every single SKU in stock (whether you own it or not), as the depth of demand will not match markets such as the US. Also the Pareto principle applies.
4.1 states that noon will offer a thirty (30) day return policy on almost every category, save those where a longer return policy may apply.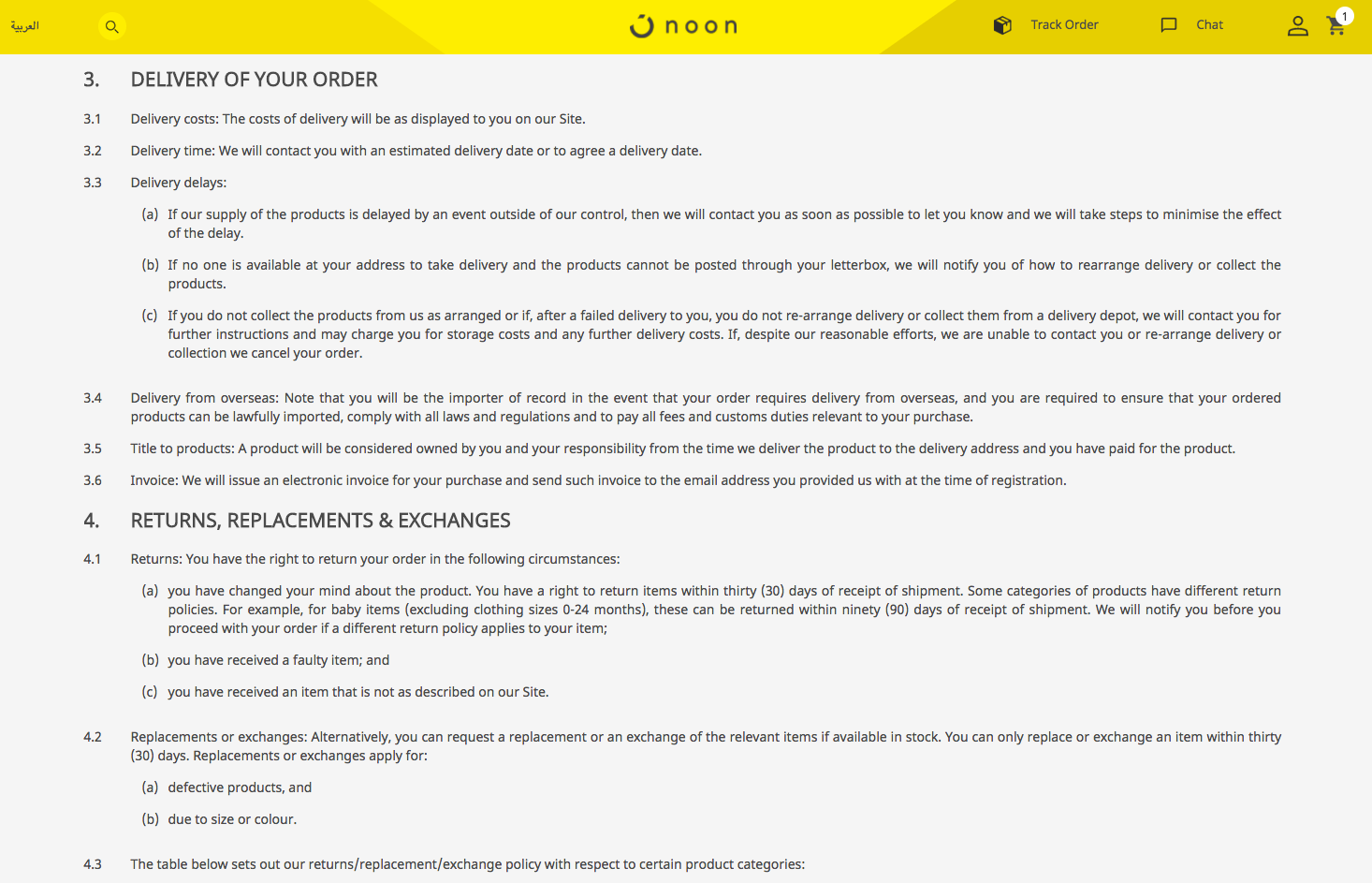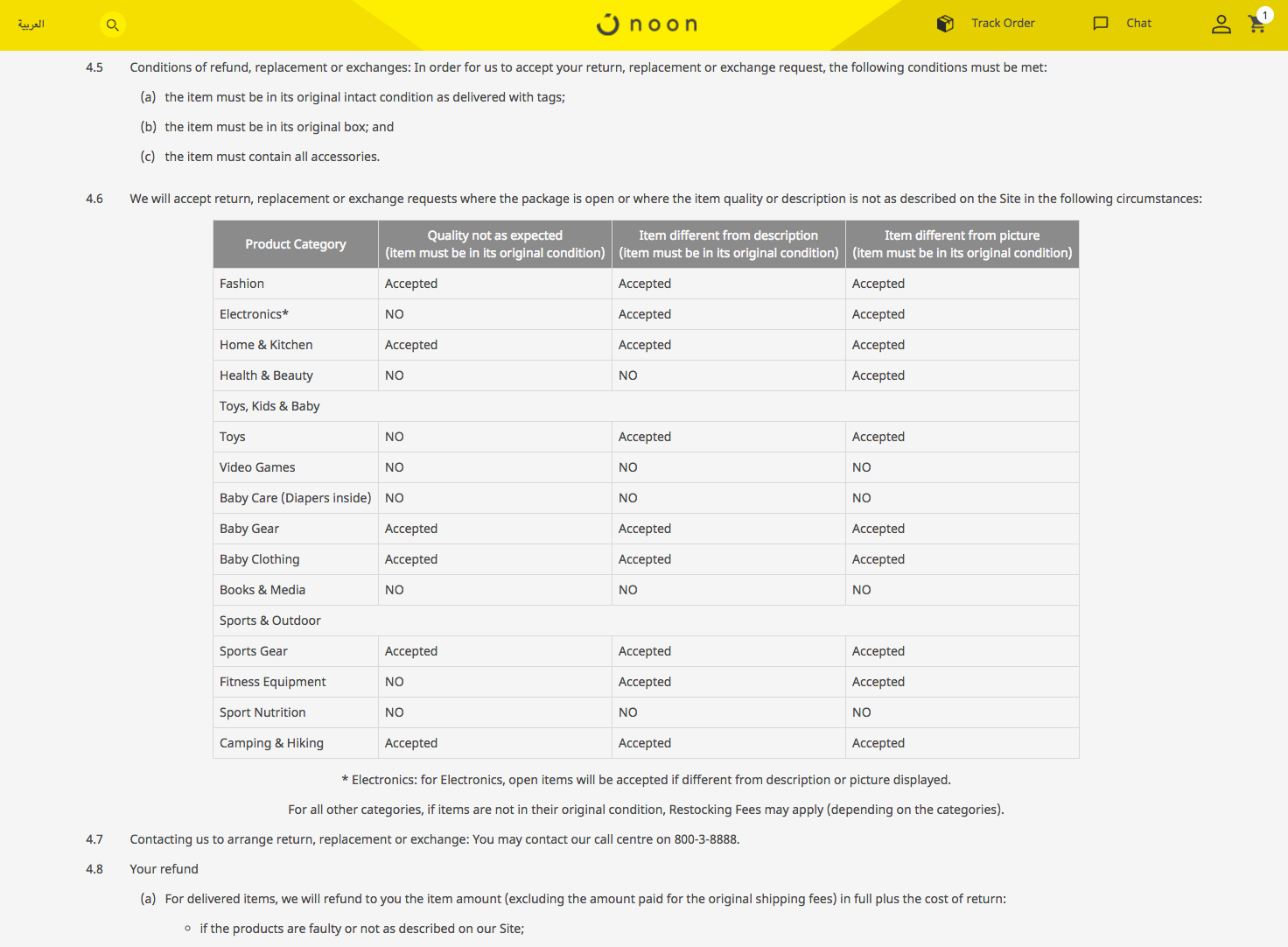 4.8 indicates that noon will not cover the cost of outbound shipping when a refund is calculated, but will cover the cost of return shipping in some cases.
4.10 states that a re-stocking fee of up to 30% will apply on certain product categories, if a return doesn't meet the conditions stated in 4.5 or if the return is outside the return window, opening up the possibility of returns beyond the thirty day window.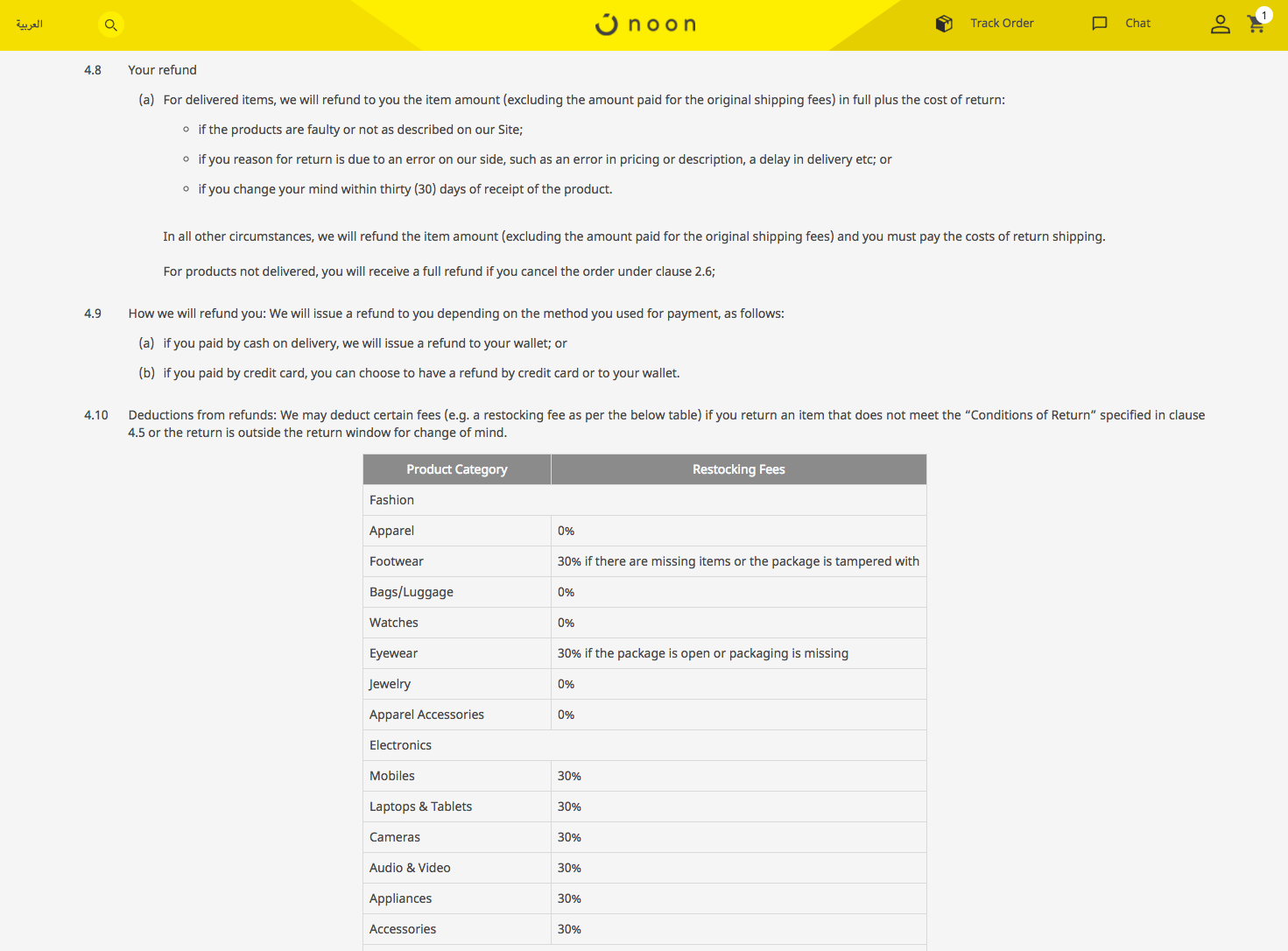 Clause 5 states that noon will provide a warranty on a number of different product categories. This indicates a willingness to source product flexibly (read: grey market), allowing pricing power versus the desire of principals and distributors to maintain price parity across channels.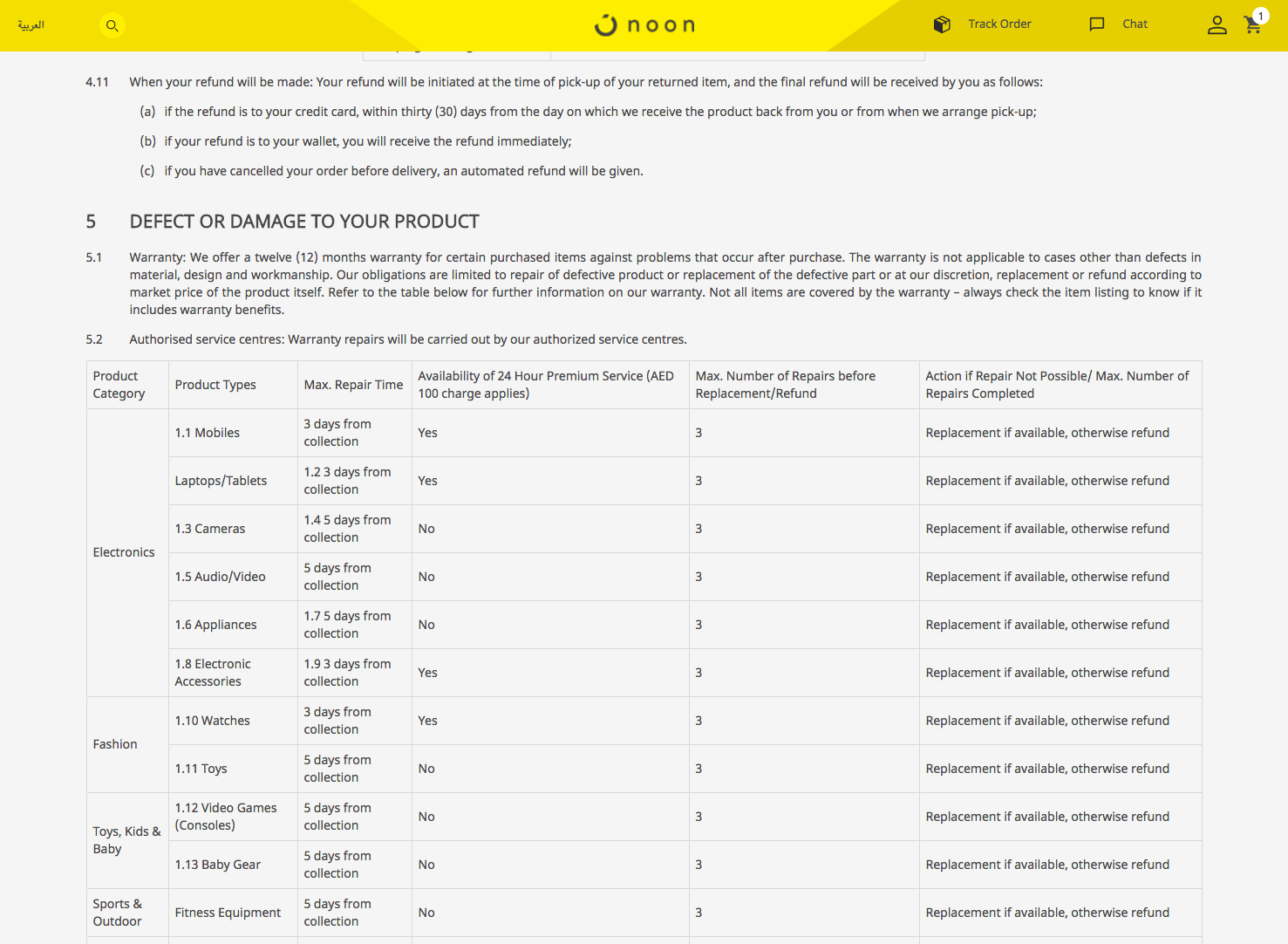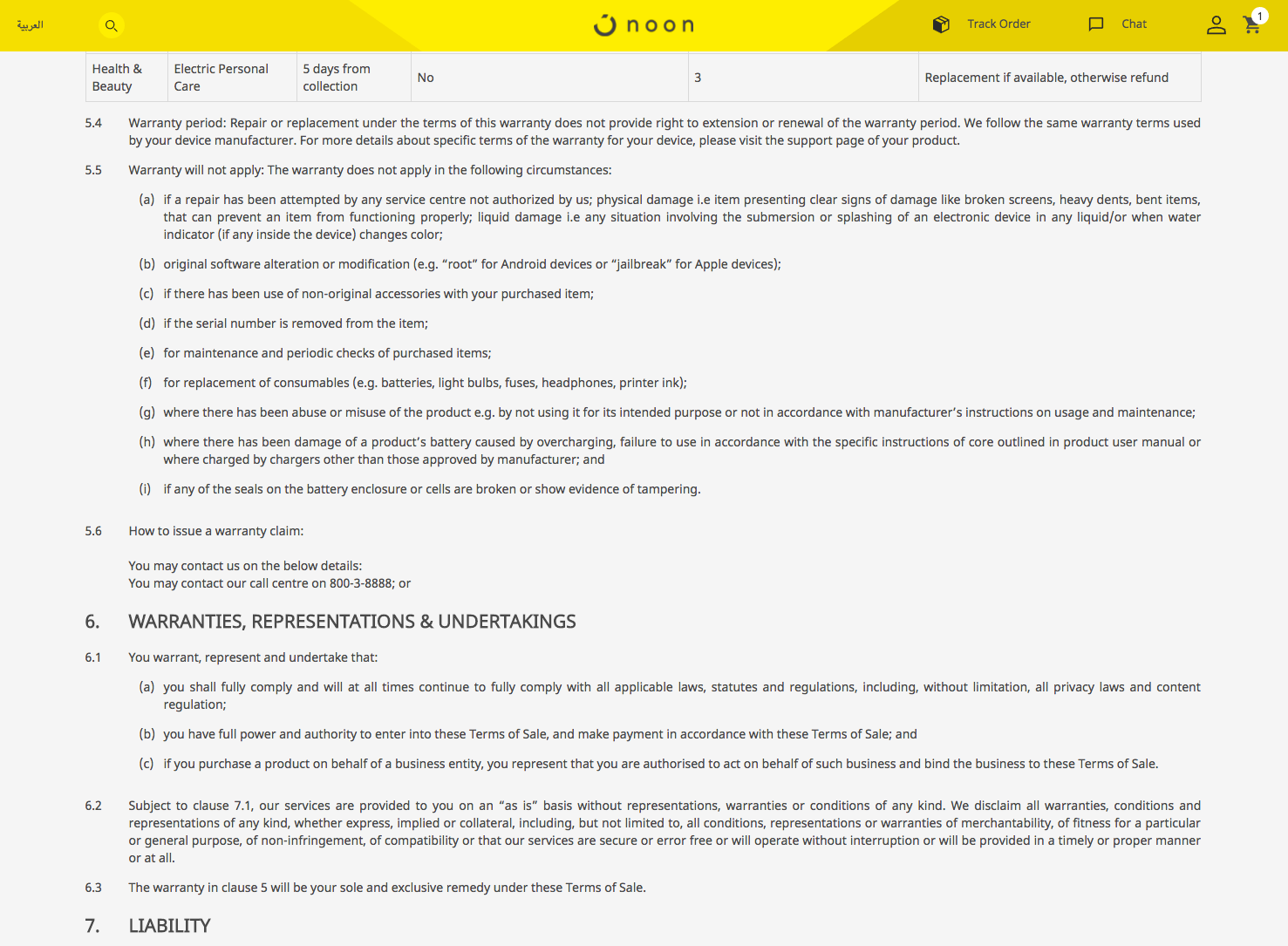 Notes
A few thoughts and observations to wrap:
1. Chat & Scalability
I didn't spot a contact form or an email address through which I could reach noon's support team. This indicates that chat will be the primary support mechanism. While it allows support to be very responsive, chat doesn't scale as efficiently as email and if anything is very akin to offering phone support. Conversations take longer to get to the point, taking up more time than they should, whilst support teams tend not to be as good juggling multiple chat conversations as they are at dealing with multiple email cases.
Keep the customer waiting in a chat conversation and the support experience declines rapidly in minutes versus respond to a customer's email within a couple of hours and you'll get a pat on the back for being incredibly responsive.
2. Thirty Day Return Policy
Incredibly positive for potential customers but I'd question the commercial feasibility especially for categories such as Electronics.
3. Mapping in Checkout
I can understand the use of mapping on mobile devices where a GPS sensor is readily available to provide accurate location data (if permissions  allow one to do so), but getting location data is significantly harder on tablet and desktop devices very few of which have access to a GPS sensor, forcing the user to manually input their location. Not an easy ask.
4. I tried noon's 800 number, but it didn't ring.
5. I didn't see any options for other currencies or the ability to toggle to other countries. What I've seen so far feels very UAE specific and I wonder if and how customers in Saudi Arabia will be served at launch.