Since the news that Alabbar Enterprises invested €100m in Yoox Net-A-Porter, broke in mid April 2016 there has been intense speculation in the industry as to Mohammed Alabbar's wider plans for the region's digital space.
This is a short research note pulling information together from various sources. Where possible information has been cross checked with an independent second source or is based on evidence.
Synopsis
It is expected that Alabbar will launch Noon.com (aka Project Next), a marketplace style, fulfilment driven fashion focused e-commerce play on the 11th of November 2016 (Single's Day in China) in early January 2017.
Noon is a beautiful palindromic name that is the vocalisation of the letter "n" in Arabic.
Other business models in the works include a payment gateway product, an events ticketing platform and a travel play.
Alabbar Enterprises has expressed interest to build, acquire and invest in existing players. A number of conversations have taken place from an exploratory perspective but the trigger is yet to be pulled on a significant investment in the region.
Key Events
On the 4th of June 2016, Mohammed Alabbar delivered a keynote speech titled "The Arab Digital Transformation" at the Ramadan Majlis of Sheikh Mohammed Bin Zayed, the Crown Prince of Abu Dhabi. The presentation in Arabic is available on YouTube and provides important context for the play at hand.
On the 26th of July 2016, Alabbar Enterprises acquired a 16.45% stake in Aramex from Fadi Ghandour and others, through vehicles Boson Ventures Corporation and Jaona Investment. Aramex is a key lynchpin in the region's e-commerce supply chain.
Legal Entities

a. Alabo General Trading LLC, DED License Number 752558, managed by Fodhil Benturqia. Owned 51% by Symphony Technology LLC and 49% by Spirited Innovation BVI Ltd.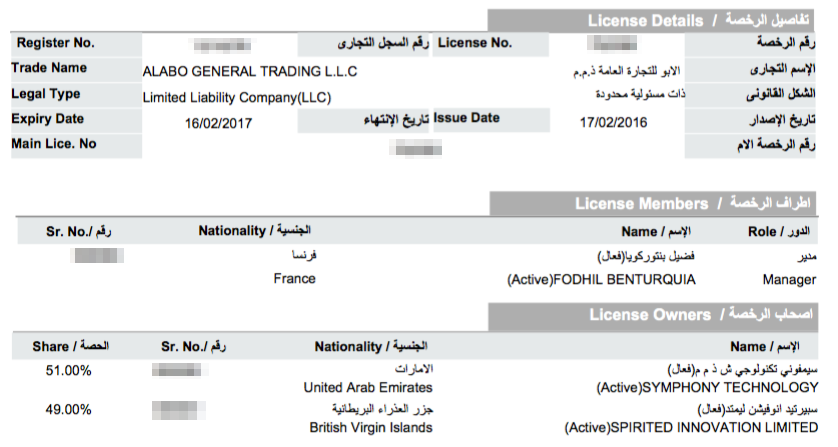 b. Symphony Technology LLC, DED License Number 680610 managed by Rashid Alabbar. Website.
c. Alabo Technologies Private Limited India, CIN U74900DL2016FTC291922 (RoC Delhi), formed on 1st March 2016. Directors are Sanjay Bhasin and Fodhil Benturquia. Company is a subsidiary of a foreign company.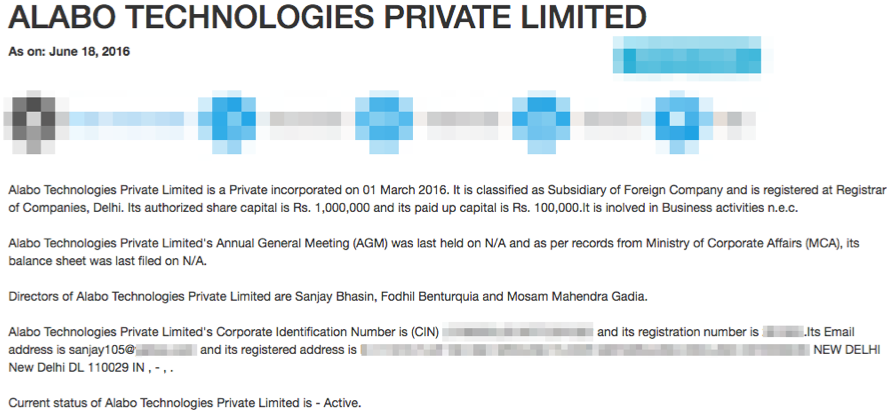 d. Fast Fish, Unknown Jurisdiction. Background Video
e. Project Next is also using Square-8, an architecture and design firm located in Building Three, Emaar Square for organisational administrative support.
f. Noon Holdings AD Ltd, was setup at the beginning of May 2016 in the DIFC as a non-regulated entity.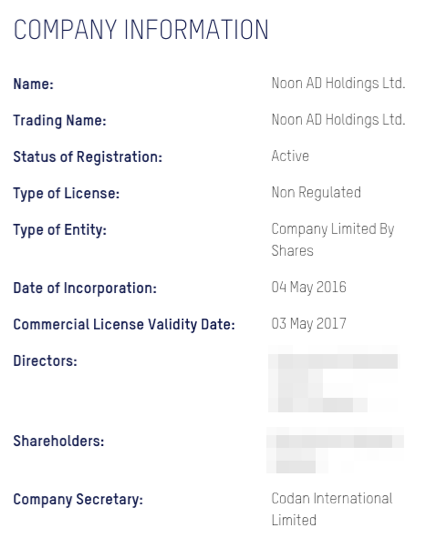 g. A new set of operating entities that reflect the Noon name were setup at the end of August 2016. These include Noon Management Services, Noon Payments, Noon Express, Noon E Commerce and Noon Warehousing.

Funding
Reports indicate that at least $1bn in funding is available to the venture. $500m from the Public Investment Fund of Saudi Arabia, available in tranches as well as $500m from Abu Dhabi, assumedly on similar terms.
Domain Names & Social Media
Noon.com (Cloudflare DNS), N0000n.com (Registered 19th July 2016, Instra Corp), Noonpay.in (registered 21st June 2016, Instra Corp), Fastfish.club (registered 18th May 2016)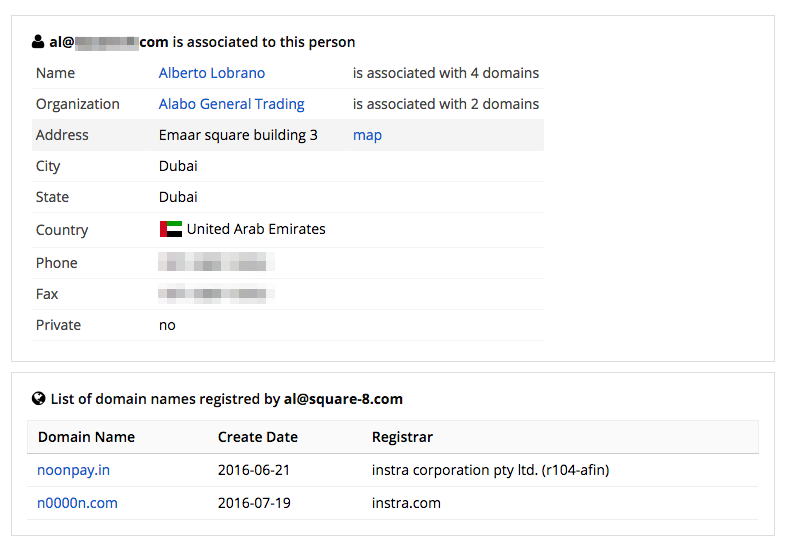 Twitter: @Noondotcom (Joined July 2016)
Key Personnel
a. Fodhil Benturqia, CEO. Previously: Souq, MarkaVIP, SocGen. Built Deal of the Day at Souq.
b. Vinay Subramanian, Head of Investments?. Previously: Flipkart, Goldman Sachs
c. Alberto Lobrano, SVP of Technology.
d. Maurizio Valentini, Title Unknown?. Previously: Souq, eBay.
e. Mosam Gadia, Finance?. Previously, Flipkart, Unilever, PwC.
Business Models
E-commerce Marketplace + Fulfilment
Payment Gateway
Events Ticketing
Travel
Engineering Stack
Scala, dotNet
Hiring
Hiring has taken place across the board from major regional Internet players such as Souq, Namshi and others. Entering into the hiring process is subject to signing an NDA upfront with key hires citing "Stealth Startup" as their new employer.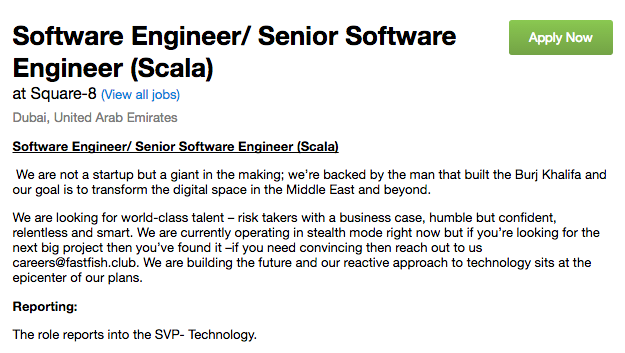 Reported offers have generally been well above market compensation ranging from 45% to 2x over current pay with additional bonuses.
Diving into Noon.com
A quick look at Noon.com's expected commercial model.
Category Fees
Fashion: 12%
Electronics: 4%
Electronics Accessories: 8%
Health: 8%
Books & Music: 4%
It is expected that sellers will not be charged category fees for the first six months.
Closing Fees
AED 2 + 2% of sale value (unclear if this includes shipping costs).
Fulfilment Fees
Small Box: AED 5
Medium Box: AED 10
Oversized Box: AED 15
Bulk: AED 20
Storage Fees
AED 1.5 per cubic foot for 60 days
AED 2 per cubic foot from 60 to 80 days
AED 8 per cubic foot for 180 days+
Fees are subject to change, but have been indicated to be 90% accurate.
Fulfilment Centre
A large distribution and fulfilment centre will be based in Dubai South. Capacity is expressed to be multiples of the largest player in the region, but it is not clear to what extent. A vendor reports that they've been requested to supply racking that is similar to an existing large e-commerce retailer's environment but have also been asked to provide palletised racks which indicates that bulk pallet storage will also take place.
It is expected that fulfilment services will be provided to third parties, potentially indicating that Noon.com may manage and fulfil for a given brand's other channels. Zara has been indicated as a potential customer.
Seller Dashboard
Sellers are expected to have a dashboard available in the next couple of weeks.
Categories
It is expected that Noon.com will focus on branded fashion including luxury names such as Gucci and Chanel, whilst other categories will be built alongside.
Noon Pay
An industry insider speculated that Noon Pay may look to position as a PayPal style wallet where the Noon.com marketplace is a key channel for user acquisition and the capture of payment details. The captive details would be subsequently used to sell through other services.
Onwards
I'm nothing but excited for what all of this means for the region. E-commerce and by extension digital is finally getting a fair shake. While no-one with any sort of commercial interest in the space would applaud the rise of competition, it is clear that this will grow the region's digital infrastructure in leaps and bounds, hopefully marking a milestone for a lot more to come.
Updates
September 27th 2016: I was wrong about Amira Rashad, who's off doing her own thing. I've been told that Sanjay Bhasin is no longer involved with the project. Launch date has been pushed back to early January 2017.
October 4th 2016: Adds details about new entities that use the Noon name.