This post originally appeared on the JadoPado Blog on the 1st of April 2014. It has been re-produced here to preserve the JadoPado historical record.
We're extremely excited to announce a revolution change in Middle East e-commerce. So much so, that we've decided to send out a press release to just about everyone that we know.
JadoPado announces free e-commerce revolution.
Dubai, April 1st, 2014: JadoPado announces that it has finally solved the massive challenges facing e-commerce in the Middle East.
"We've had tremendous interest from regional investors as they see the potential for incredible growth in the sector" commented Omar Kassim, Founder of JadoPado.
Killing two birds with one stone, JadoPado has solved the cash on delivery problem as well as sticking it to its competitors by giving everything away for free.
"Imagine never having to wait for payment when trying to make a delivery. It's magical." said Mr. Kassim "We turn up, we deliver and just walk away."
Industry leaders, JadoPado's vendors and government officials have all applauded the effort as being in line with Dubai's vision to build the world's largest, greatest and tallest e-commerce free trade zone before Expo 2020.
"We're proud that JadoPado has taken this revolutionary step. It's pretty obvious when you think about it" commented Boutros Boutros Al Majania, Head of E-Commerce at Dubai's e-Government School of Entrepreneurship and Venture Capital.
"Our competitors won't know what hit them. Deal of the day doesn't quite cut it when you have to compete with free" continued Mr. Kassim reading from a set of prepared remarks from his phone made from leaked iPhone 6 parts.
"We're absolutely certain that our customers will love it. Whether it be the iPhone 5s, the HTC One M8 or an obscure microwave, everything must go. We're beefing up delivery capacity and are increasing stock levels to cater to unprecedented demand."
JadoPado will start giving everything away for free starting today.
—
Updated 2nd April 2014: Happy April Fool's Day!
The JadoPado Homepage on 1st April 2014.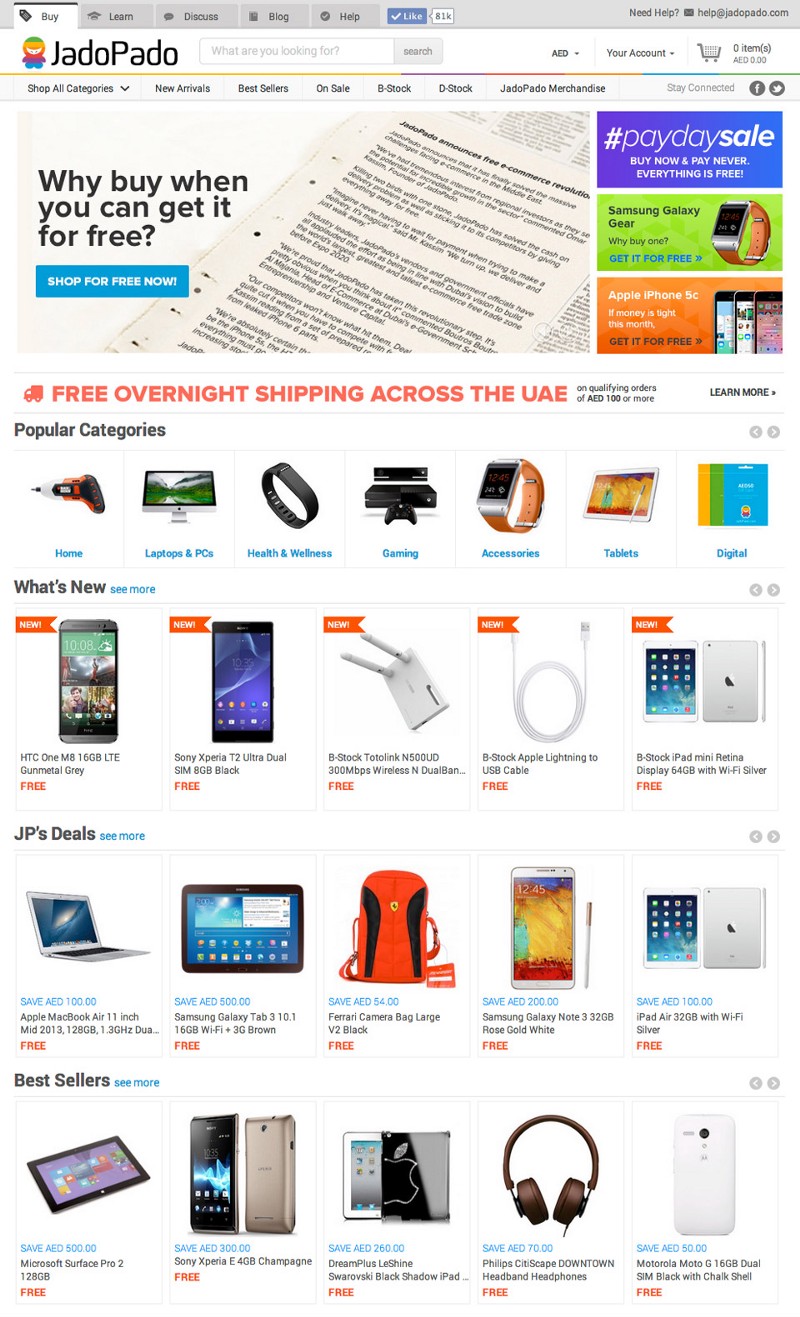 Clicking on a product or a category listing would take you to a "Gotcha!" page.