This post originally appeared on the JadoPado Blog and has been re-produced here to preserve the JadoPado historical record.
A little over a year ago we re-positioned JadoPado as a marketplace, swivelling to a technology business that happens to be doing e-commerce versus an e-commerce player that knows their technology. From a seller shipping to a single post office town in Alaska, to making payments to sellers around the world from Poland through to Hong Kong and Japan, its been an interesting ride!
Turning away from a business model that was well established and was starting to get traction in a crowded and competitive space was probably one of the toughest decisions that we've had to make so far. Definitely not something that we took lightly. Amongst the many debates, at some point it became clear that the far future outlook for our direct sales model looked stormy, and that we'd need an incredible amount of capital to compete against some of our larger regional and global peers. The choice was slowly frittering away into irrelevance versus daring to cannibalise and evolve. So obviously, we ate JadoPado Direct and re-emerged as JadoPado the platform.
Whilst incredibly difficult, radically changing your organisation should always be a part of your game plan in order to go where your competitors won't, and do what they say you can't.
I am happy to report that a global marketplace is rising. Slowly.
The JadoPado State of the Union
Consider the rest of this post to be an overview of our current state of being. We've opened many browser tabs, dived into spreadsheets and thoroughly queried databases to bring you the numbers behind some of the key areas of our business.
Catalogue
The Catalogue is our (not very secret) weapon against "I couldn't find what I was looking for" and has grown from 8000 SKUs (stock keeping units) pre-marketplace to over 140,000+ SKUs. That's 17.5x growth, providing significantly more choice for buyers. We expect it to continue to grow at a fair clip, which has implications for search, visibility as well as more boring stuff like de-duplication.
Inventory
The value of the inventory available for sale at JadoPado currently fluctuates in the range of $324 million (AED 1.19 billion) to $297 million (AED 1.09 billion) from week to week. That's many orders of magnitude more than we'd ever have been able to hold efficiently in stock ourselves. Big win.
Categories
We've swivelled from a single Electronics category experience to 16 top level categories covering everything from antiques and collectibles through to babies and groceries. That's over 5500 categories in total.
Given our previous focus as lovers of all things electronic and reflecting the best performing category in the region, Electronics continues to drive a significant portion of our business. However, we're starting to see good traction in other categories including Fashion, Beauty, Toys and Home.
Traffic
We crossed 1,000,000 visitors for the first time in February 2016, representing 421% growth year on year. Our traffic is 99.9% organic and is indicative that the underlying fundamentals of our core product are starting to work. Yay.
Sellers
We've signed up over 4500 independent sellers from around the world, with a majority naturally coming from the UAE and the region. Three sellers from our top fifteen are from Hong Kong. All of them discovered our platform organically. Over the longer term, we expect strong traction with sellers outside of the region as we become increasingly globally focused.
Gross Merchandise Value
GMV peaked in December and has shown our traditional seasonality in January and February. While we started from a relatively low base in GMV terms, GMV has grown 60% YoY when averaged over January and February.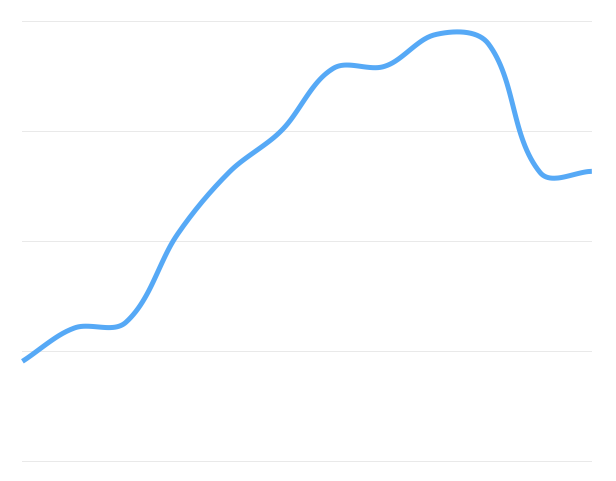 Challenges
A couple of challenges that we've been thinking about recently include:
Delivering Exceptional Service
When we operated JadoPado as a direct e-commerce business, we presented customers with a very tightly controlled end to end experience which initially included delivery. This has been difficult to replicate with our seller base, but we're making headway both by building our platform to encourage the right behaviours whilst also doing so through things like one-on-one conversations and email notifications (for example, our first email notification to a seller for a new order states: "Delivering exceptionally great customer service drives profitable, repeat business!"). Our future approach will include both carrots and sticks based on seller performance indicators. Very corporate, but I've been told it works. Time shall tell.
Fake & Counterfeit Goods
We have a zero tolerance policy on both fake and counterfeit goods. It however remains incredibly challenging to be able to effectively control and police what is being sold on the platform. We act as quickly as we can to fix issues as and when they crop up (which luckily have been rare, so far), but the fact is that we'll never be in complete control of what is "physically" being shipped to buyers. This is a problem for pretty much every marketplace out there, but I'm confident that through a combination of policy, trust mechanisms, technology (think behavioural algorithms) and being a source of revenue to sellers will help drive this challenge towards obscurity over time.
What We're Building
We're continuing to rapidly iterate the platform and the tools that we provide both to buyers and sellers. Some of what we're currently baking includes:
Simple Shipping
From day one, any seller on our platform could setup and define shipping down to the city level for most countries. While this was great for sellers who wanted to build a serious business on the platform, it was incredibly challenging for casual sellers, many of whom didn't know where they should be shipping (outside of their own locality) let alone have or figure out how to get a carrier relationship.
The idea behind Simple Shipping is to allow the platform to escape away the complexity of shipping globally. We re-visited a number of our previous carrier relationships as well as a few new ones and after a bit of back and forth we agreed on a simple mechanism that will allow a seller to ship directly off the platform by accepting an order and hitting "Print Airway Bill" and hitting another button (or ringing up) when their package is ready for pickup.
We're excited that this could be a step change in how sellers can quickly go global with JadoPado versus attempting to do it themselves.
Boost & Pop
From the beginnings of time sellers have tried to outdo one another and the digital age is no different. So we built Boost and Pop.
Boost is a mechanism to allow sellers to indicate how much extra they'd be willing to pay to increase their opportunities for additional visibility across our various marketing mechanisms, with zero payment upfront. Boost does not guarantee extra visibility but gives us information on which seller offers we should consider marketing over others.
Pop is essentially a type of sponsored listing. Pop guarantees extra visibility by highlighting an offer versus competing offers on a product page, whilst also providing potential exposure in the Featured Offers section on the JadoPado homepage.
Read more about Boost and Pop.
There's a tonne more stuff in the oven. Promise.
What Does The Future Hold?
Honestly, I don't really know, but hopefully it's on a logarithmic curve and includes the words global and scale.
If you may be interested in joining a fast growing technology business, we're always looking for incredible talent across our two offices in Dubai and in Colombo. A great work environment, incredible colleagues and unlimited leave (yep, seriously), are a little part of the thought we've put into the sort of organisation and business that we're building. Join us!
Onwards.