The Logistics of Honesty
On the 19th of February 2019, MomentumWorks, a VC firm based out of Singapore wrote a scathing piece in Mandarin about the challenges faced by Fetchr, a regional logistics and delivery startup, bringing to the fore insinuations that have been discussed extensively in private, after the business faced a nightmare Black Friday weekend.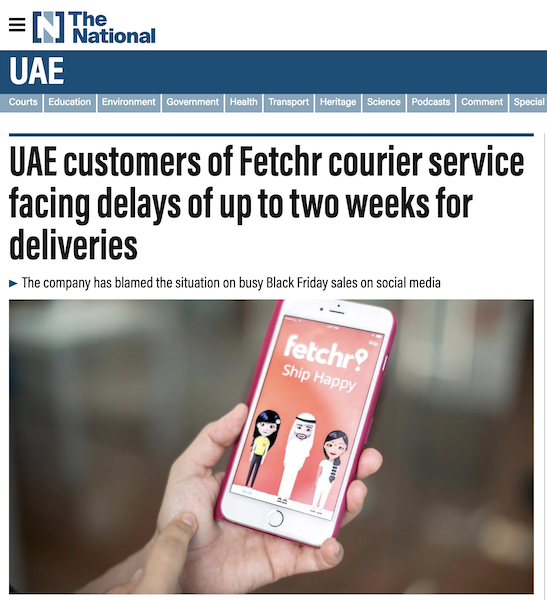 When someone pinged me a link to the piece a week later, I did what I do all the time: read, screenshot and share. If it doesn't fall foul of local law, is information that appears reliable and may trigger debate, it's fair game.
What followed was a flurry of phone calls and WhatsApp messages. Rather than responsibly engage and attempt to respond to the claims in the piece, I was instead asked to delete the tweet, questioned why I was "bringing it to the ecosystem", was told it was "net-negative" and would cause "harm to both them (Fetchr) and the wider ecosystem".
A classic case of shoot the messenger.
Why are we unable to be open and honest with ourselves, our customers, our employees, our investors, and just say it like it is? Own that you screwed something up, apologise profusely and move on. It always plays out better than you'd imagine, and more importantly lets you draw a line in the sand.
---
A Crypto Exchange Lawyers Up
After writing a piece about the challenges that BitOasis, a pioneering crypto exchange in the Middle East, were having with keeping their banking channels open (who wasn't), a journalist and their publication found themselves sandbagged with a legal notice claiming defamation and threats to take further action.
When describing the incident to me, the journalist stated in unequivocal terms that they actively reached out to BitOasis seeking comment for a number of weeks. Not having heard back – borderline startup suicide in my book –  the piece was written without comment.
On realising that the article didn't play well, subsequent engagement with an evasive email and a legal notice four days later through your high priced lawyers is almost a scene out of HBO's Silicon Valley.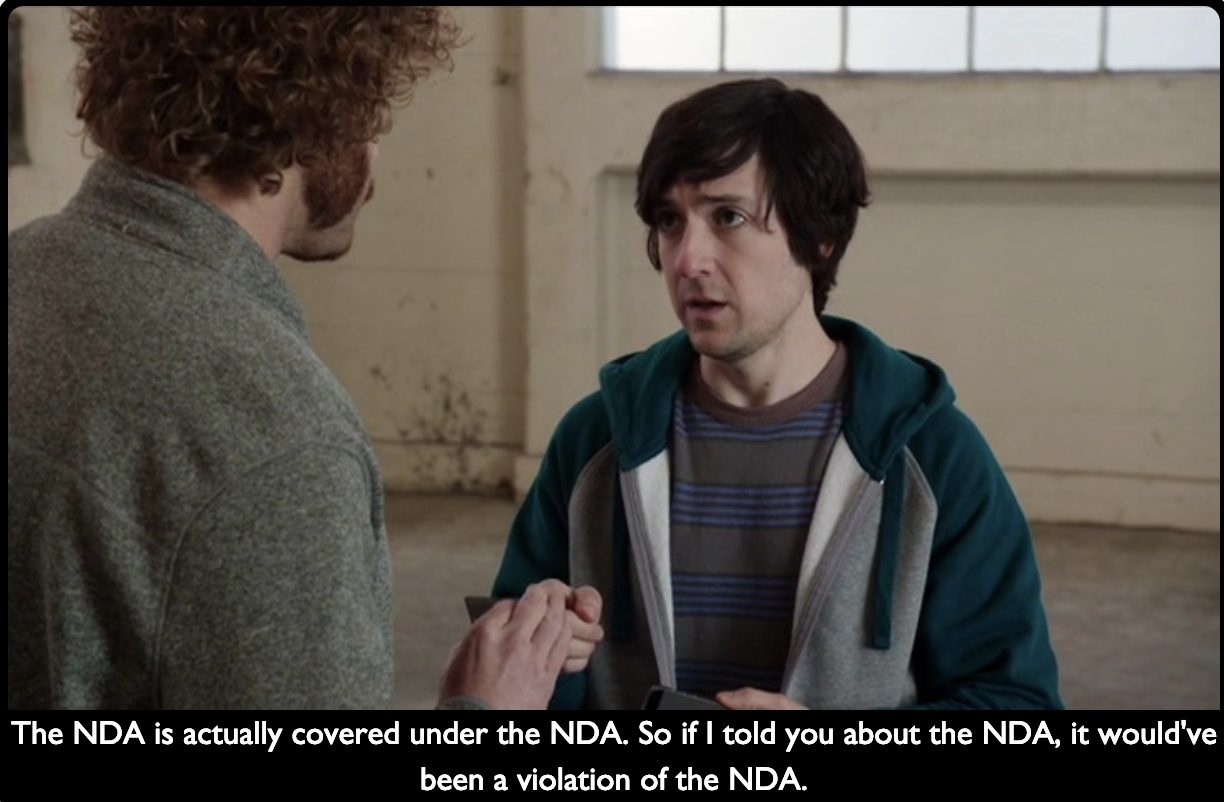 Why would you actively choose not to be part of a story about your business? As a startup founder, if you've got one job, it's the unrelenting telling (and selling) of your story – who better to do that with the men and women who've dedicated their lives to writing them?
---
A Dubai Eye Radio Ban
A few hours after announcing that JadoPado was to be no more, a friend and former producer for Dubai Eye's Business Breakfast show reached out with an invite to explain: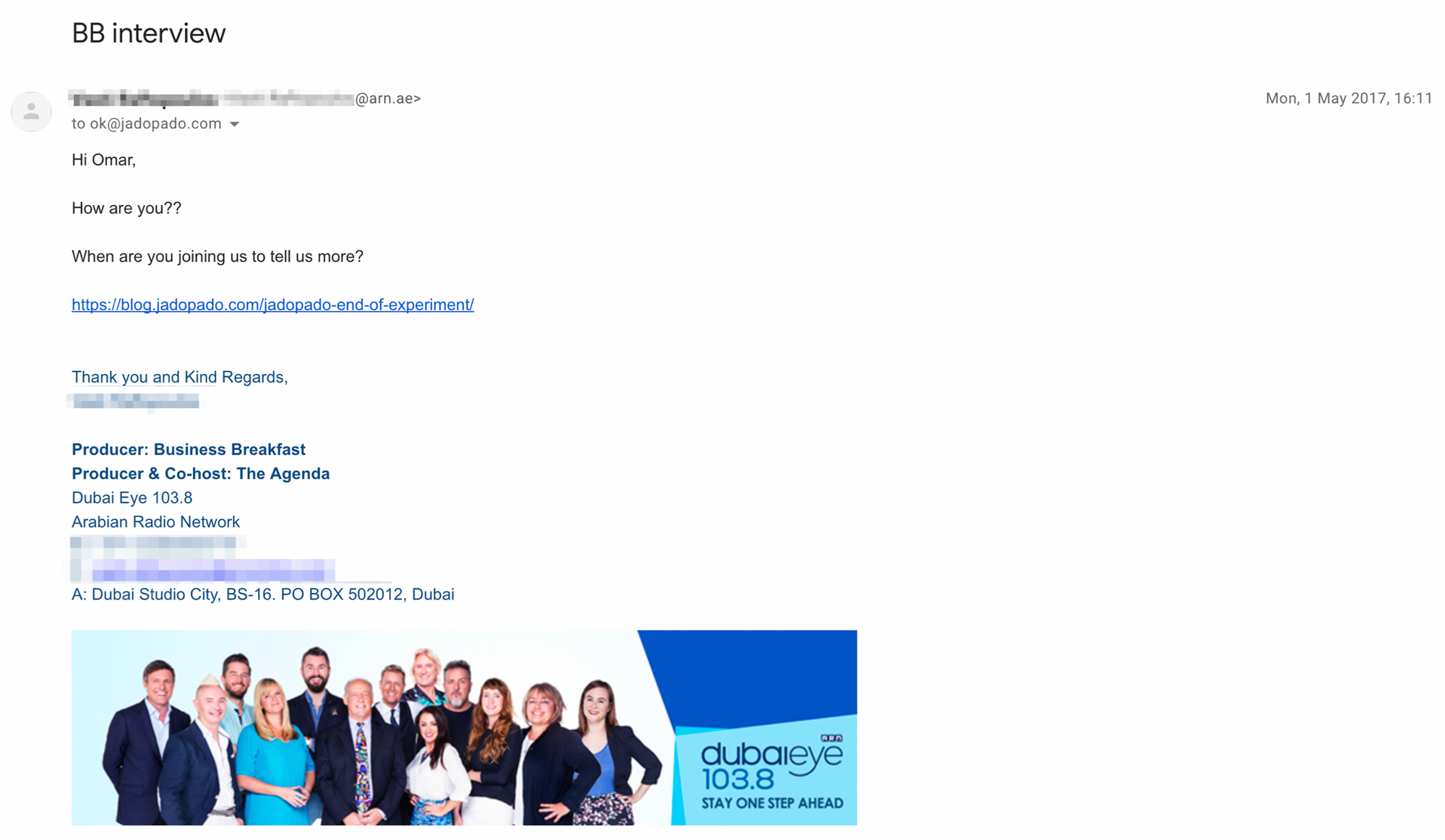 I politely declined stating that we weren't making any further comment at this time, but got back in touch ten days later, after Reuters broke the news that we'd been acquired by noon (which is a whole other story). We agreed a time for the upcoming Sunday and got on with our weekends.
On Saturday, I got a strange call saying that the station had to pull the interview. I recall a profuse apology and general confusion over what had happened. It was pretty clear in my mind that someone had called in a favour, but to what end remains a mystery to me to this day.
I reached out a couple of months later on realising that Dubai Eye was running an e-commerce special: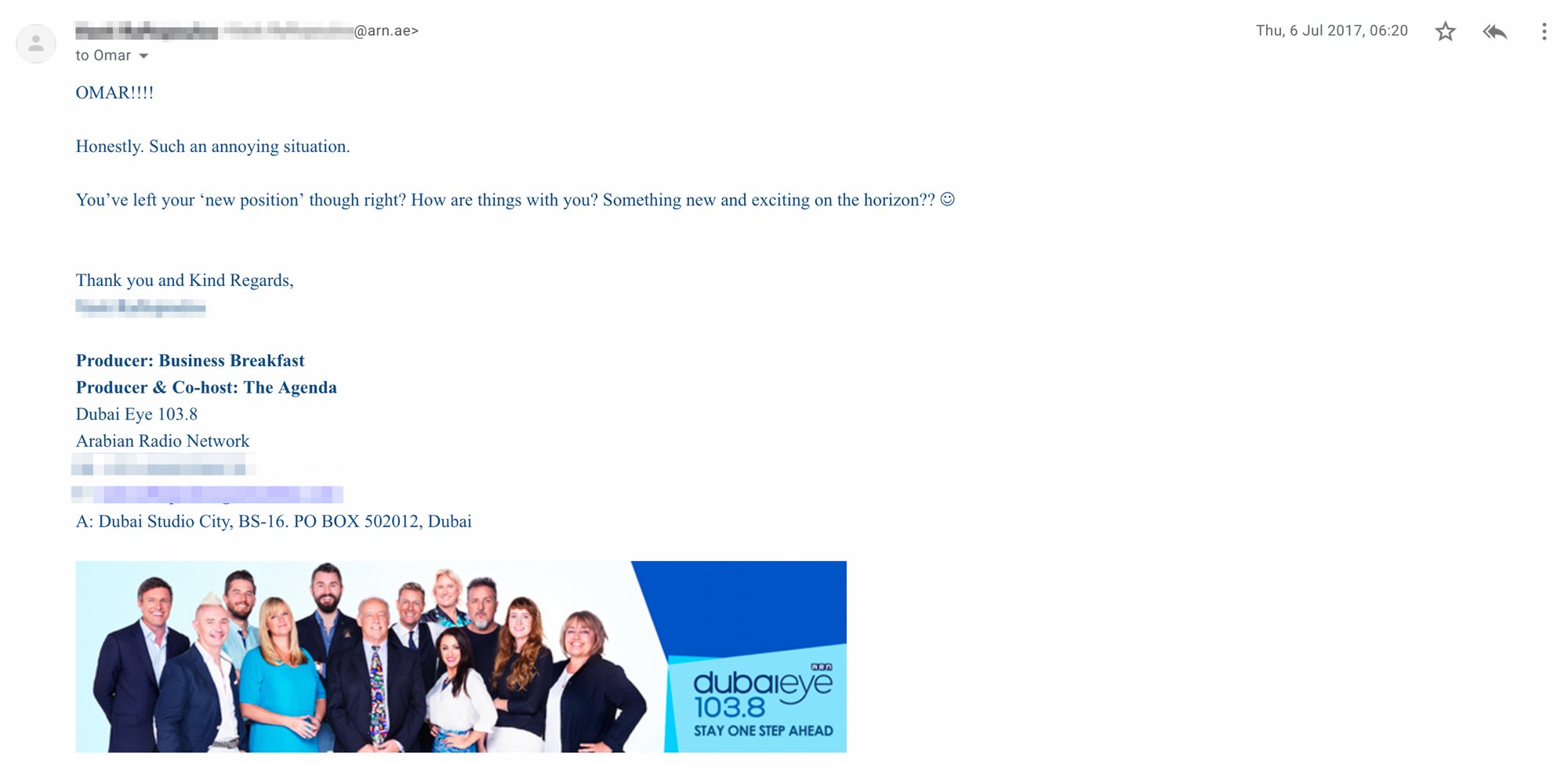 August happened:

September rolled around: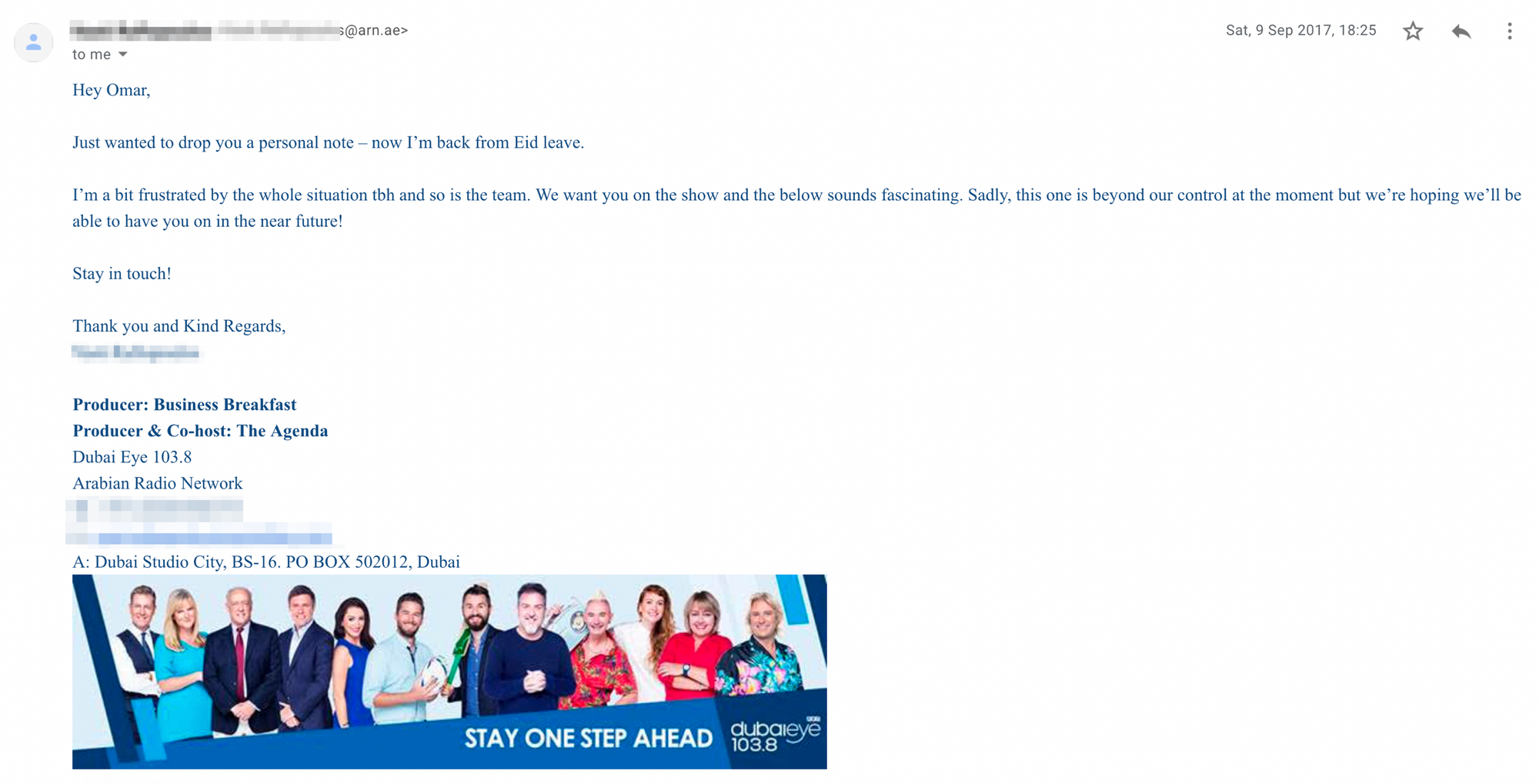 Through summer 2015 and early 2016 I stumbled into a weekly technology contributor slot that took place during Dubai Eye's mid-afternoon show, The Ticket. I'd spend a few hours each week researching what was new in tech, try to relate it to the travel space when I could, and spend a good half hour chatting about it on the radio. With just north of twenty five episodes under my belt, I was totally ready to take on podcasting!
In October, one of the presenters on The Ticket reached out asking whether I'd be up for a one off: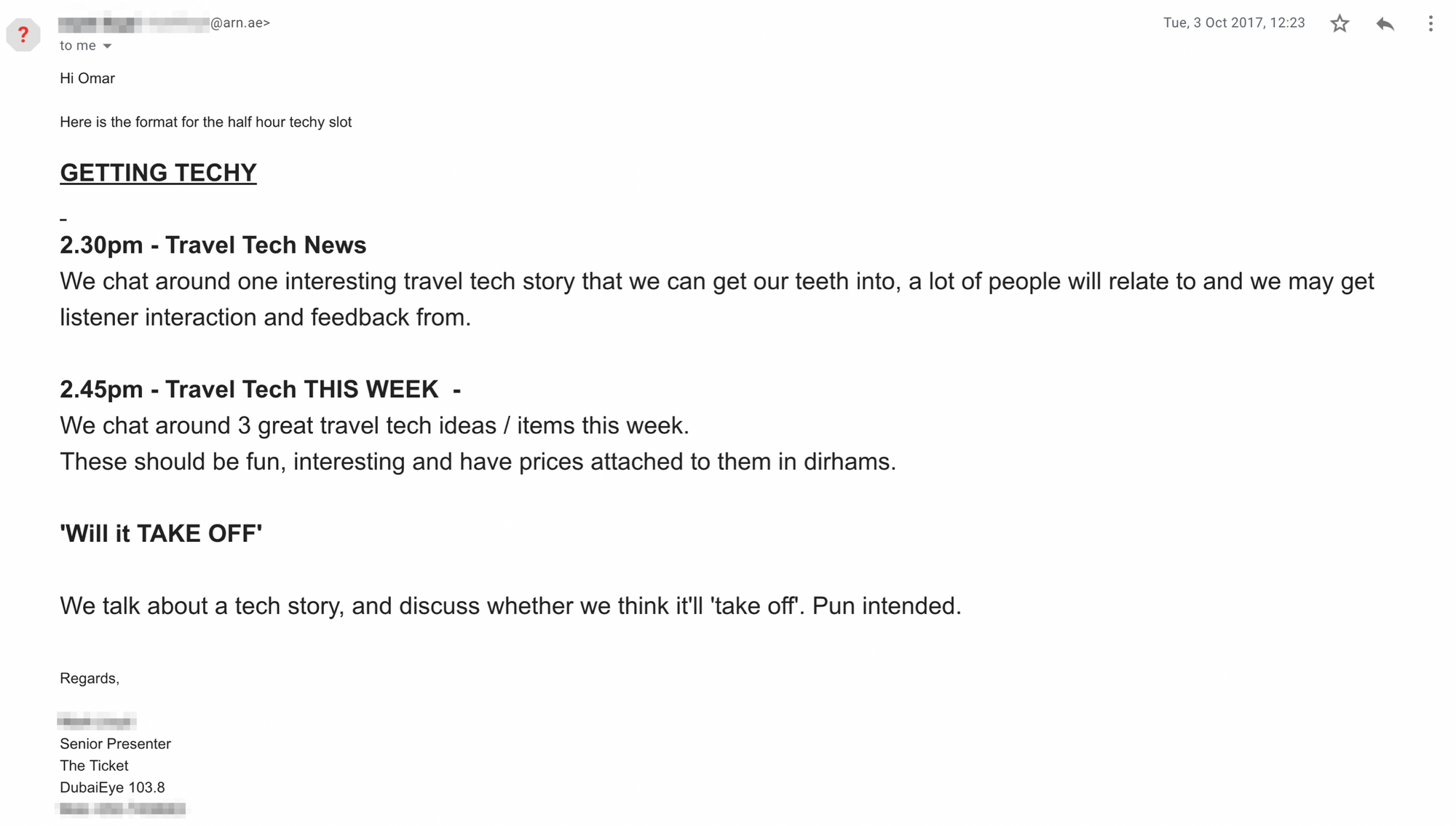 I naturally said yes, given that I had taken the summer off and was more than happy to get back into actually doing things.
Notes done:

An hour before airtime: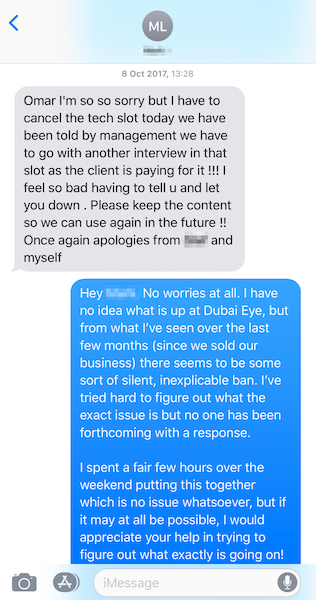 A few hours later: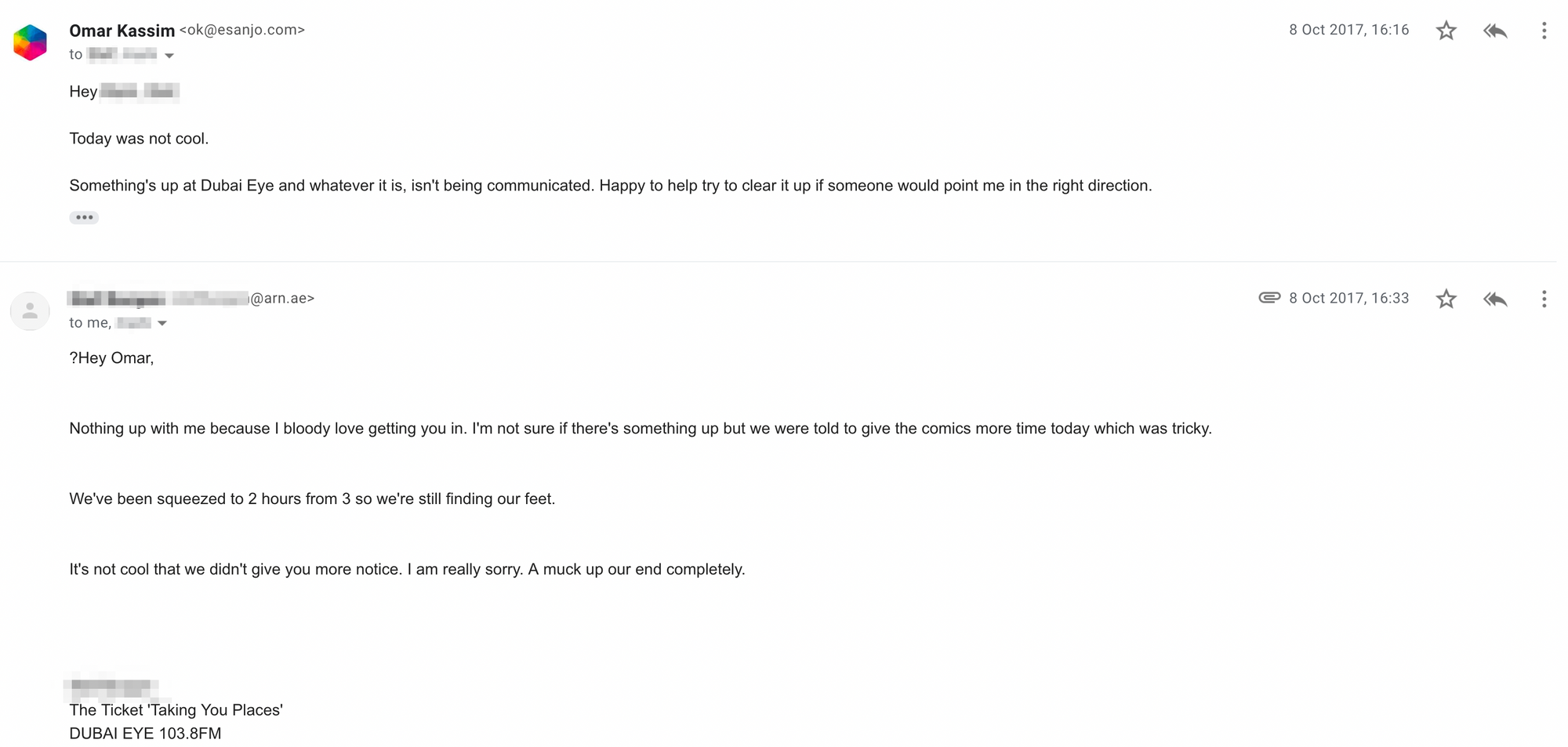 At some point I stopped taking it personally and decided to leave it be. I do however wonder how insecure one must be to silence an entrepreneur from discussing the very business that you acquired from him.
---
In the region, many of us self-censor and most of us know where to draw the line, but when we decide to use the very same lines to attempt to hide the truth, mute discussion, and squash necessary discourse about the challenges that our businesses face – we not only do ourselves a disservice, but hurt our fragile ecosystem and the kindling opportunities set to play a growing role in the future of our economies.
It's easy to point a finger at the region's political preference for conformity rather than debate, but the reality is that we're afraid of being judged and the consequences of failure.
The sooner we work up the courage to speak up – we failed, we broke it, the economy is in a recession, we made a mistake, we shouldn't have done it that way – the faster we learn, evolve, and earn the experience required to be able to build globally competitive enterprises.