After hearing that Careem's wild exit to Uber was around the corner, I dived into some research and spent a bit of time trying to model Careem's cap table. This was meant to be a longer post prior to the acquisition being announced, but ended up turning into a Twitter thread, which I broke somewhat awkwardly after a polite phone call requested that some bits be killed due to their personally sensitive nature.
I've reproduced the thread in the right order for posterity:
1. ⚡️I spent a bucket load of time recently trying to model @careem's cap table. It was a super interesting, wild ride wading through all sorts of company articles, public financials etc. I was writing a piece, but I think a Twitter thread may work better
2. 🤝 Careem was formally incorporated as Careem Inc, a BVI entity on the 12th of July 2012. @MudassirSheikha and Magnus split the business on a 60:40 basis, issuing 15,000 and 10,000 shares to themselves respectively

3. ✍️ In the summer of 2013, the company's articles were adjusted to allow up to 20m shares, a precursor to the Seed round. The original shares were cancelled and on the 19th of July 2013, new shares were issued, cementing a $50K investment each.

4. 🌱 @careem's seed round was led by @stcventures and included 14 individuals. One notable investor was Ankur Shah, who invested $50K and went on to become Careem's Chief Finance & Strategy Officer.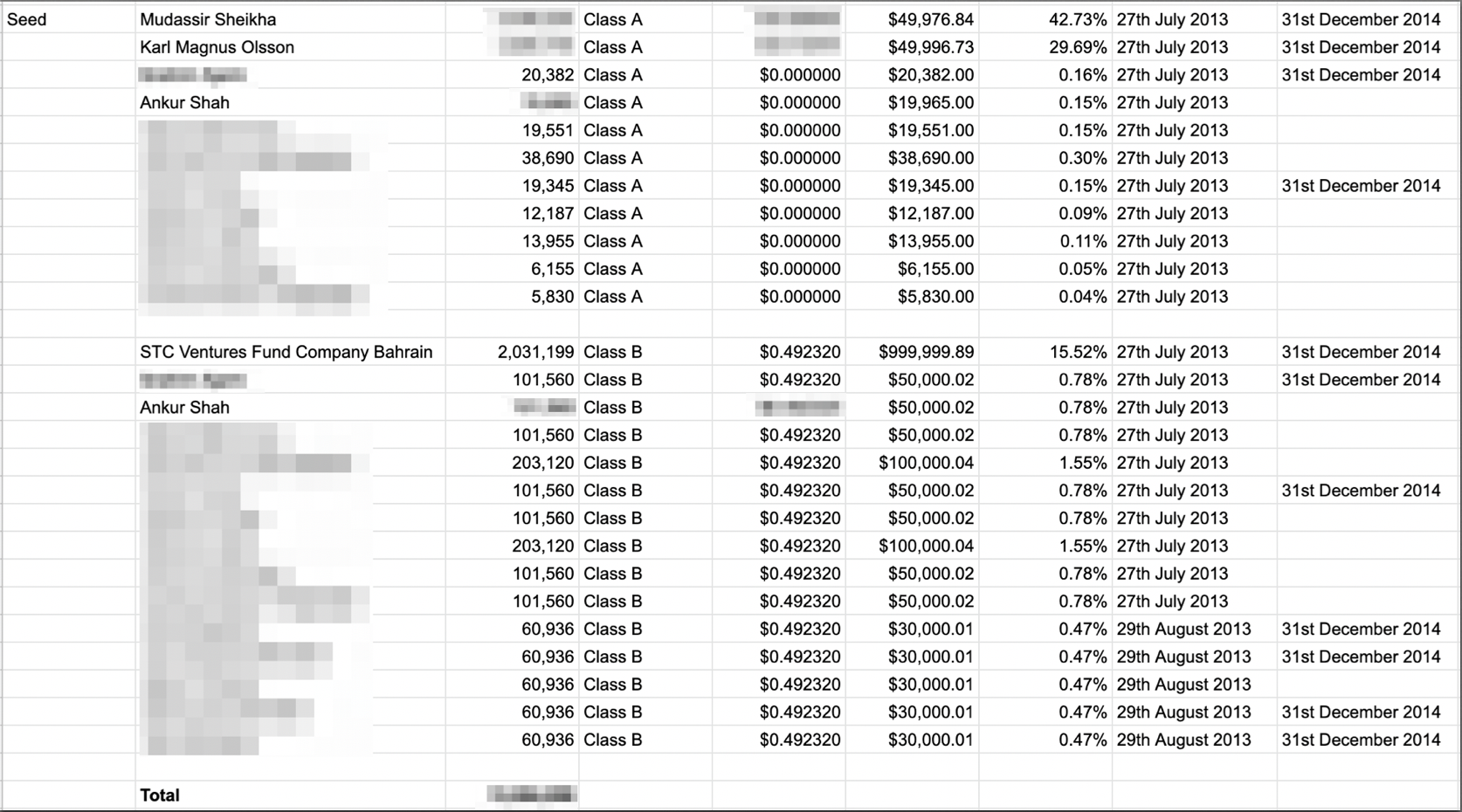 5. 👻 Seed also introduced standard conditions such as a 1x liquidation pref (sigh), drag-along, tag-along, a long list of reserved matters, and the first mention of an ESOP.
6. One notably addition was a two year vesting clause for the founders, forcing a possible sale of shares even if a founder's employment was terminated without cause 😵
7. 🚕 Series B (or really Series A) was led by @altayyaronline who invested via a $4m convertible note. This later converted to 3,263,985 Class C shares at a price of $1.379 per share. Notably, AlTayyar's CEO Abdullah Dawood made a personal investment of $750K at the same price 🤑

8. ⚡️ @stcventures also invested via a convertible loan together with a senior partner at McKinsey, later converting to 1,196,245 and 4,944 Class B shares

9. 🚀 Series B also saw the entry of @BECOCapital, who came in via buying out a number of secondaries including from @stcventures, the founders, Ankur, and six individuals. One individual exited fully netting a 4.5x gain in 17 months!
10. 💥 I estimate @BECOCapital's terminal value to be in the range of $32m (subject to secondaries, of which I think there may have been at least one), a 22x return and handily returning 64% of BECO's first $50m fund, finally proving out the thesis for the MENA VC ecosystem 👏
11. 🔥 Series C was led by @abraajgroup on the 13th of October 2015 at a price of $ 7.0825 per share, using the now ironically named Abraaj Generous SPV, a stake that they sold to @kingdom_khc in June 2017

12. 🏦 Jahangir Siddiqui & Company Limited, a Pakistan based investment firm, also provided a convertible loan to Careem Pakistan, potentially convertible to Class D shares. Previously unreported AFAIK.

13. 💙 Series D, 17th January 2017, and Series E, 13th June 2017 were both led by Sparrowhawk Partners, a fully owned affiliate of @RakutenToday, whilst Series F, 28th October 2018, was led by Rakuten Europe, who at the end of 2017 reported that they owned a 19.56% stake in @careem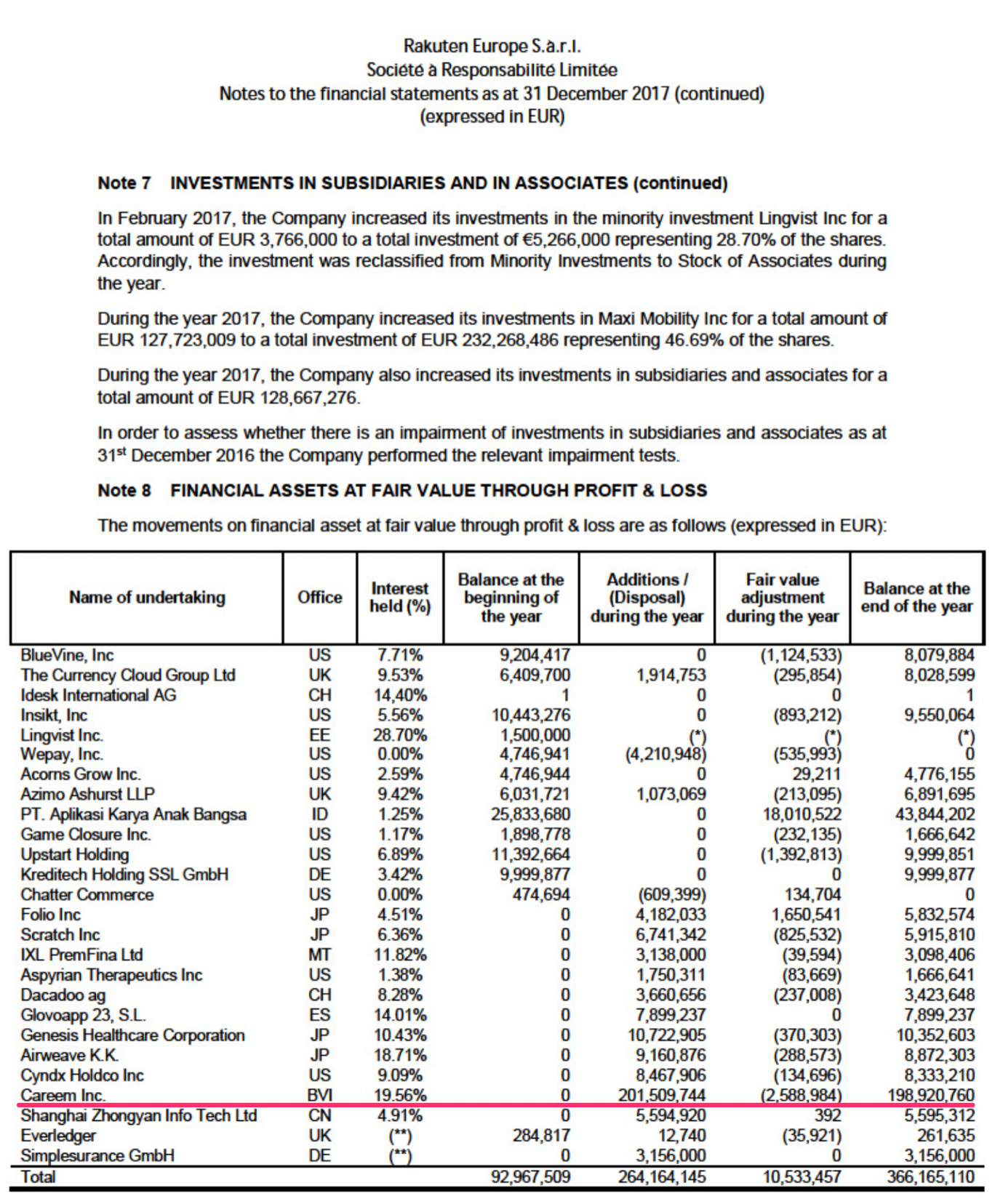 ---
I also took a crack at estimating the terminal value of the transaction, trying to arrive at multiples for each investor. My analysis is limited by the information available.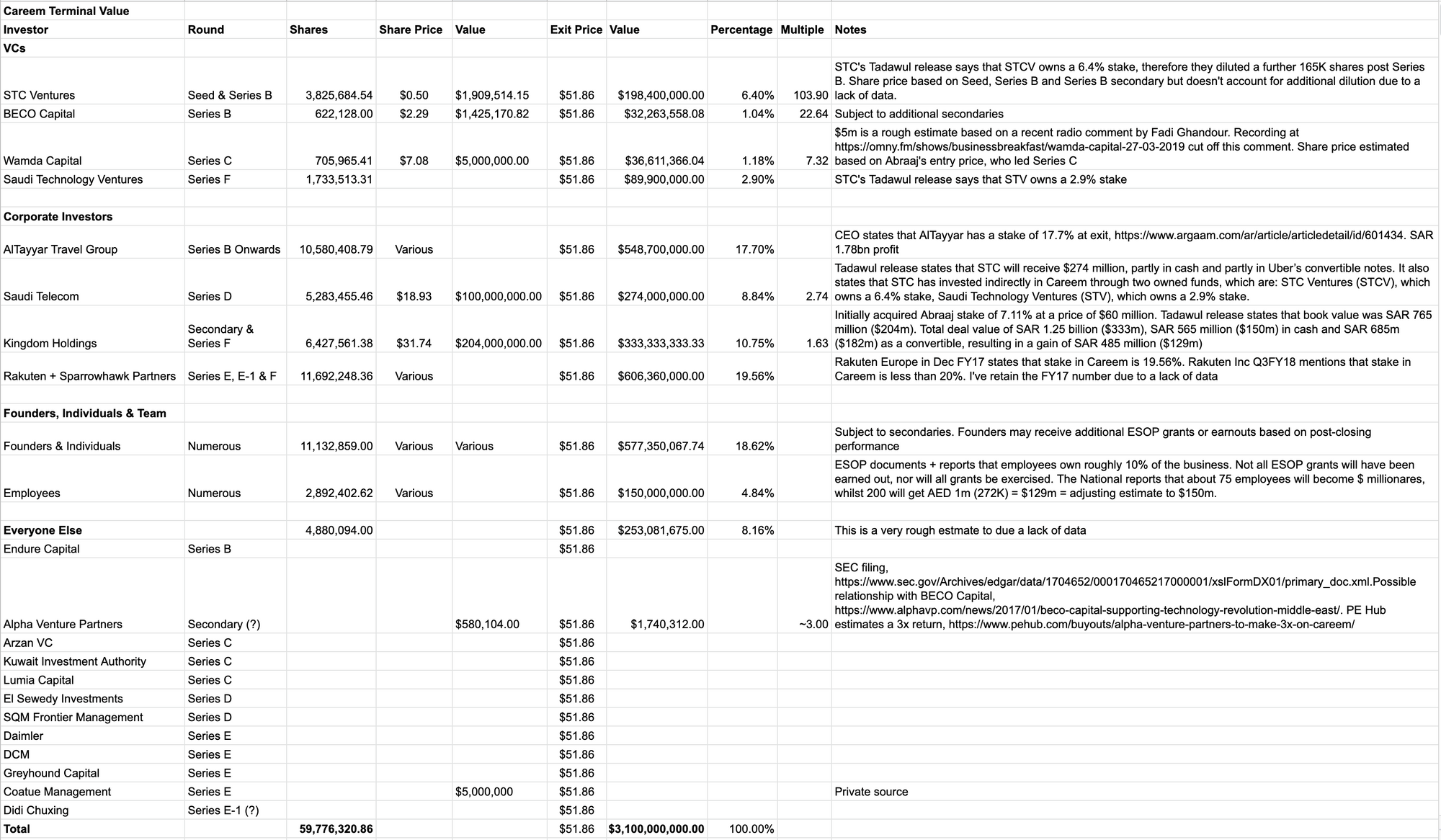 ---
Whilst much ink and airtime has recently been dedicated to what this may mean for the MENA region's technology space, I'm personally hopeful that it marks a true inflection point and is the beginning of the next wave of ideas, entrepreneurs and change brought on by digital – I can't wait.